Turkiye's fourth drilling ship to arrive at Tasucu Port in Mersin on May 19
After two-month stint in Mersin, the ship will be put to work in Eastern Mediterranean Sea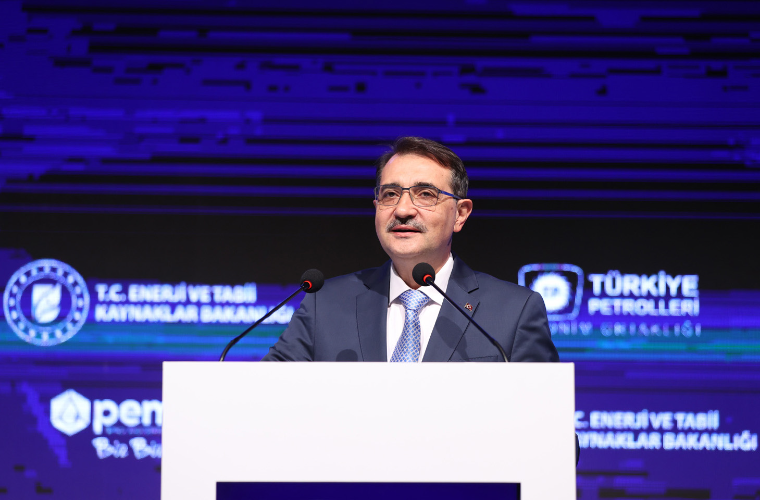 Turkiye's fourth drilling ship will arrive at its destination in the Tasucu Port in Mersin on May 19, Energy and Natural Resources Minister Fatih Donmez said on Monday.
The ship will stay at the port in Mersin for about two months in preparation for its first drilling exercise in the Eastern Mediterranean sea, Donmez said.
The new vessel is a seventh-generation, deep-water drill ship, one level higher than the three other drill ships, Fatih, Kanuni and Yavuz, in the country's fleet.
The addition to the fleet is part of the national policy to advance technology and use local equipment for energy projects.
'We have set our technology independence as a key target alongside our energy independence,' Donmez said.
Localization is priority in energy
Donmez said the country is working towards putting a stamp of ''Made In Turkiye' at every stage of energy, from production to technology.'
Under the localization policy, Turkiye has invested in infrastructure and human resources to boost domestic production to scale down imports, as evidenced by the proliferation of renewable energy technologies, Donmez explained.
'Today, we have domestic technology production at a rate of 75% in solar energy, 65% in wind and biomass energy, and 55% in geothermal energy,' he said.
The country has also incorporated a technological transformation in the mining industry focused on end products.
'To date, we have commissioned gold, silver, iron-pellet, copper and aluminum integrated smelters focused on end products,' Donmez said.
Additionally, Turkiye will commission a boron carbide plant this year along with the start of construction for two domestic lithium factories.
According to Donmez, localization in the oil and natural gas industry has been ongoing for some time, with savings of 123 million Turkish liras ($7.9 million) made through 113 localization projects since 2019.
The country uses local technology products in drilling, production and offshore operations, including casings, production pipes, wellhead equipment, surface production equipment, conductor pipes, compressor systems and drilling rigs.
Future projects
Turkiye has major energy projects underway for 2023.
'We are making daily progress on the introduction of Black Sea gas, the Akkuyu Nuclear Power Plant, the Tuz Golu underground natural gas storage facility and a boron carbide facility,' Donmez said.
In the Black Sea, a total of 10 deep-sea drillings have been completed so far and drilling operations are continuing at the eleventh well.
Testing indicates an average daily production capacity of 3 million cubic meters per well, Donmez confirmed.
In addition to offshore drilling, the country completed 112 onshore projects, including drilling for metallic minerals, industrial raw material, coal, radioactive raw material, petroleum, geothermal resource exploration and research, stratigraphy, and geotechnical research last year with plans to drill 150.
'In the last three years, we have added a total of 138 million barrels of oil equivalent new reserves in our land works,' Donmez said.