Türkiye announces national energy plan and hydrogen strategy
Green hydrogen will be an important element for country's net zero emission targets, energy minister says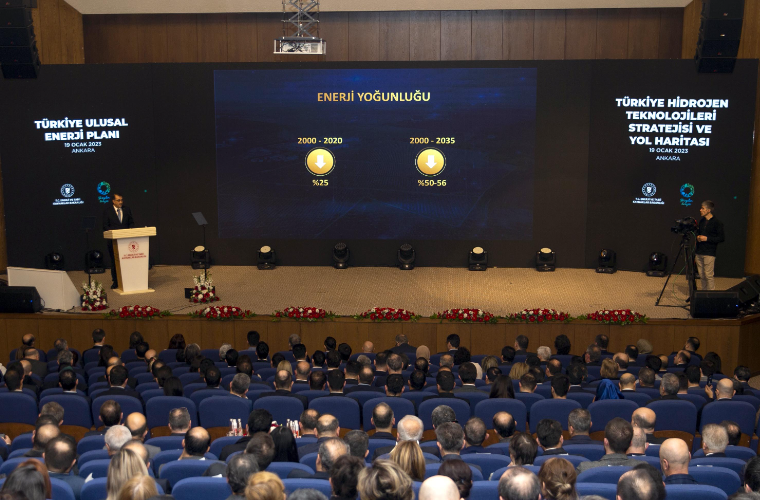 Türkiye on Thursday announced 'National Energy Plan' and 'Hydrogen Technologies Strategy and Roadmap,' both prepared to meet the country's 2053 net zero emission targets.
Speaking at a briefing in the capital Ankara, Energy and Natural Resources Minister Fatih Donmez said Türkiye's 'National Energy Plan' is projected to both support economic growth and take the country's green energy transformation to the next level.
Under the new plan, Türkiye's energy consumption, which was 147.2 million tons of oil equivalent in 2020, is projected to reach 205.3 million tons of oil equivalent in 2035, meaning a 39.5% increase, in line with Türkiye's growth targets.
Renewable energy sources, which had a 16.7% share in primary energy consumption in 2020, will increase to 23.7% in 2035. The country's installed power in electricity will reach 189,700 megawatts (MW), up from 95,900 MW in 2020.
74.3% of this capacity increase is expected to come from renewable energy sources, primarily solar and wind. In 2035, the solar installed power will reach 52,900 MW, while this number will be 29,600 MW for wind, 35,100 MW for hydroelectricity, and 5,100 MW for geothermal and biomass.
'Considering the 2-hour charging time, we will reach a battery storage capacity of 7.5 gigawatts (GW),' Donmez also declared, adding that in 2035, the electricity generation from nuclear energy will have a share of 11.1% in the country's total power production.
Hydrogen Technologies Strategy and Roadmap
Meanwhile, Donmez also declared Türkiye's new 'Hydrogen Technologies Strategy and Roadmap,' stressing that the green hydrogen, which is obtained by using renewable energy sources through the electrolysis of water, will be an important element for the country's net zero emission target.
Starting from 2030 until the end of 2053, the share of hydrogen blended into natural gas will be 12%, and synthetic methane 30%.
'We aim to reduce the cost of hydrogen production per kilogram to $2.4 by 2035 and to halve this figure by the 2050s,' he said.
Stressing that electrolysis of water is one of the most convenient methods used to generate electricity from hydrogen, Donmez also noted that under the new plan, installed electrolyzer capacity will reach 2 GW in 2030, 5 GW in 2035, and 70 GW in 2053.
'By adding electrolyzer to our installed capacity along with renewable energy and nuclear, we will be taking another important step towards zero emissions,' he concluded.