Solar to help meet Turkish energy ministry's power need
Solar power projected to meet 17% to 25% of annual energy consumption at energy ministry's headquarters: Energy Minister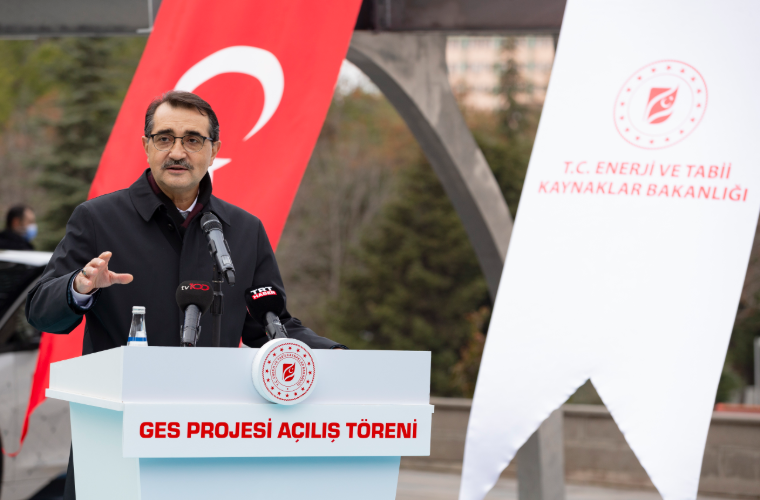 Turkey's Energy and Natural Resources Minister Fatih Donmez inaugurated the installment of solar energy power and Electric Vehicle (EV) charging stations at the ministry's headquarters on Friday.
Reiterating the target to make the public sector a pioneer in energy efficiency, Donmez was quoted as saying that "we have been working very hard for about a year to install solar power at our headquarters."
"As a first step in these efforts, our headquarters' solar power and EV-charging stations are coming online today. I congratulate everyone who contributed to these projects and particularly Turkish Electricity Distribution Company (TEDAS)," Donmez said.
Solar power is projected to meet 17% of the annual energy demand of the ministry's headquarters, but taking seasonal conditions into account, this ratio might rise to 25% in spring and summer.
He explained the solar power, consisting of 2,872 solar panels and covering a 5,547 square meter area, will have an installed capacity of 999 kilowatts-electric (kWe).
The project includes rooftop solar panels on seven buildings covering an area of 5,029 square meters, solar facade solar panels covering 165 square meters on two buildings and a 353 square-meter area in the car park.
In all, he confirmed that solar power will provide lighting to the dining hall, parking lot, the K, L, M, N blocks, kindergarden, health center, guesthouse, heating power station and TEIAS buildings.
Donmez also confirmed that charging stations have been installed in the parking lot in front of the TEDAS building; two 50 kW DC fast-charging stations with a charging time of nearly 1.5 hours and one 22 kW AC charging station with a 54-minute charging time.
"Both stations are compatible with cars originating from Europe, the US and the Far East so our charging stations are compatible with all electric cars produced worldwide," he stressed.