Akkuyu nuke plant to meet 10% of Turkey's power demand
First unit of Akkuyu is planned to start in 2023, and thereafter one per year of remaining three units up to end of 2026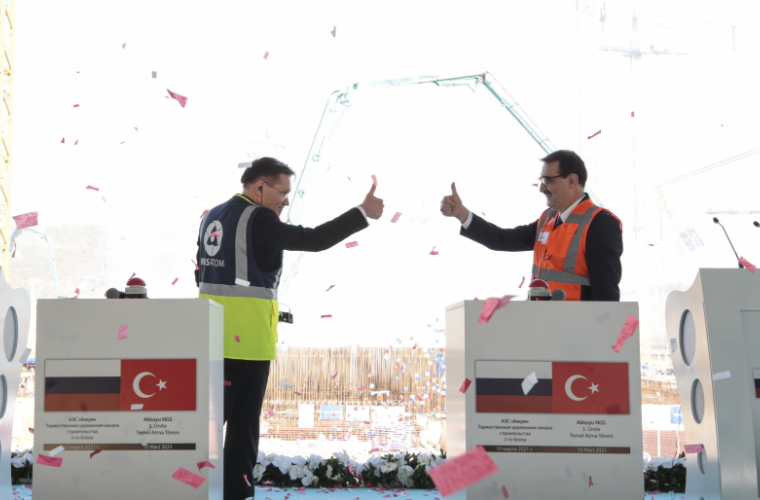 The Akkuyu Nuclear Power Plant (NPP) will meet 10% of the country's electricity demand, with a production capacity of 35 billion kilowatt-hours of electricity per year when fully operational, Turkey's Energy and Natural Resources Minister Fatih Donmez said on Wednesday.
Speaking at the groundbreaking ceremony for the foundation of the third unit of Turkey's first nuclear power plant, Donmez said the plant will produce 2,146 terawatt-hours of electricity during its 60 years of operation.
"With zero emissions power production, Akkuyu [NPP] is an important part of our green energy target. Akkuyu will prevent carbon emissions of 128 million tons per year, and 2.4 billion tons over 60 years," Donmez said.
This equates to the prevention of carbon emissions of 9 million hectares of forest, he stressed.
Donmez said that 16,000 workers would be employed during the peak construction phase of the plant, and 4,000 would be employed for its operations.
The plant will not only generate power but will also play a key role in the development of a domestic high-tech industry through knowledge transfer.
"With such nuclear technology, we target a $6 billion contribution to our economy," he said.
$2 billion of goods and services purchased from Turkish suppliers
Rosatom Director General Alexey Likhachev said the assembly of the plant's first and second reactor bodies would be completed along with the construction and assembly of its protection system this year.
He also noted that more than 400 Turkish firms are currently working on site, providing equipment services. "More than $2 billion worth of goods and services have been purchased so far form Turkish suppliers," he said.
An intergovernmental agreement for the Akkuyu NPP, which is currently under construction in the southern province of Mersin, was signed between Turkey and Russia in May 2010.
The plant's groundbreaking ceremony was held on April 3, 2018, after which construction started at the first unit. The foundation of the second unit was laid in April 2020.
As works continue at full speed, an application for the construction license of the fourth and last unit was made in May last year, with expectations that it will be obtained this year.
Operation start of the plant's first unit is planned for 2023 when the country will celebrate the 100th anniversary of the republic. All the remaining three units are due to start operations by the end of 2026, at a rate of one per year.