EU Projects
Within Türkiye's EU accession framework and the scope of Türkiye-EU Financial Cooperation thereof, Instrument for Pre-Accession (IPA) II Period was designed to cover 2014-2020 programming years for identification of EU-funded projects. Ministry of Energy and Natural Resources has been accredited by the EU as the Lead Institution in the energy sector and constitutes the Annual Operating Structure together with the Implementing Agency Central Finance and Contracts Unit (CFCU). For IPA II Period, the following priority areas were identified by the Indicative Strategy Paper for Türkiye (2014-2020) for the projects to be funded by the EU in the energy sector:
Priority 1 – Market Integration and Development of Infrastructure:
Modernizing and upgrading of the Turkish electricity network in line with the European Network of Transmission System Operators for Electricity (ENTSO-E), and of the Turkish Gas Transmission System in line with the European Network of Transmission System Operators for Gas (ENTSO-G), including soft supply equipment for Supervisory Control and Data Acquisition (SCADA),
Harmonizing Turkish gas and electricity codes with relevant EU network codes and acquis alignment in the areas
of electricity and gas.
Priority 2 – Promotion of Renewable Energy and Energy Efficiency:
Harmonizing renewable energy and energy efficiency legislation with the EU acquis,
Building capacity to implement energy efficiency programs and renewable energy programs,
Increasing the technical capacity of energy service companies (ESCOs),
Supporting SMEs and micro enterprises to improve competitiveness,
Developing infrastructures to measure, monitor and report on energy savings and greenhouse gas emissions,
Raising awareness and disseminating information on energy efficiency targeted to industry, commerce and households.
Priority 3 – Nuclear Safety:
Improving the nuclear safety regulatory and operational framework, in line with EU standards.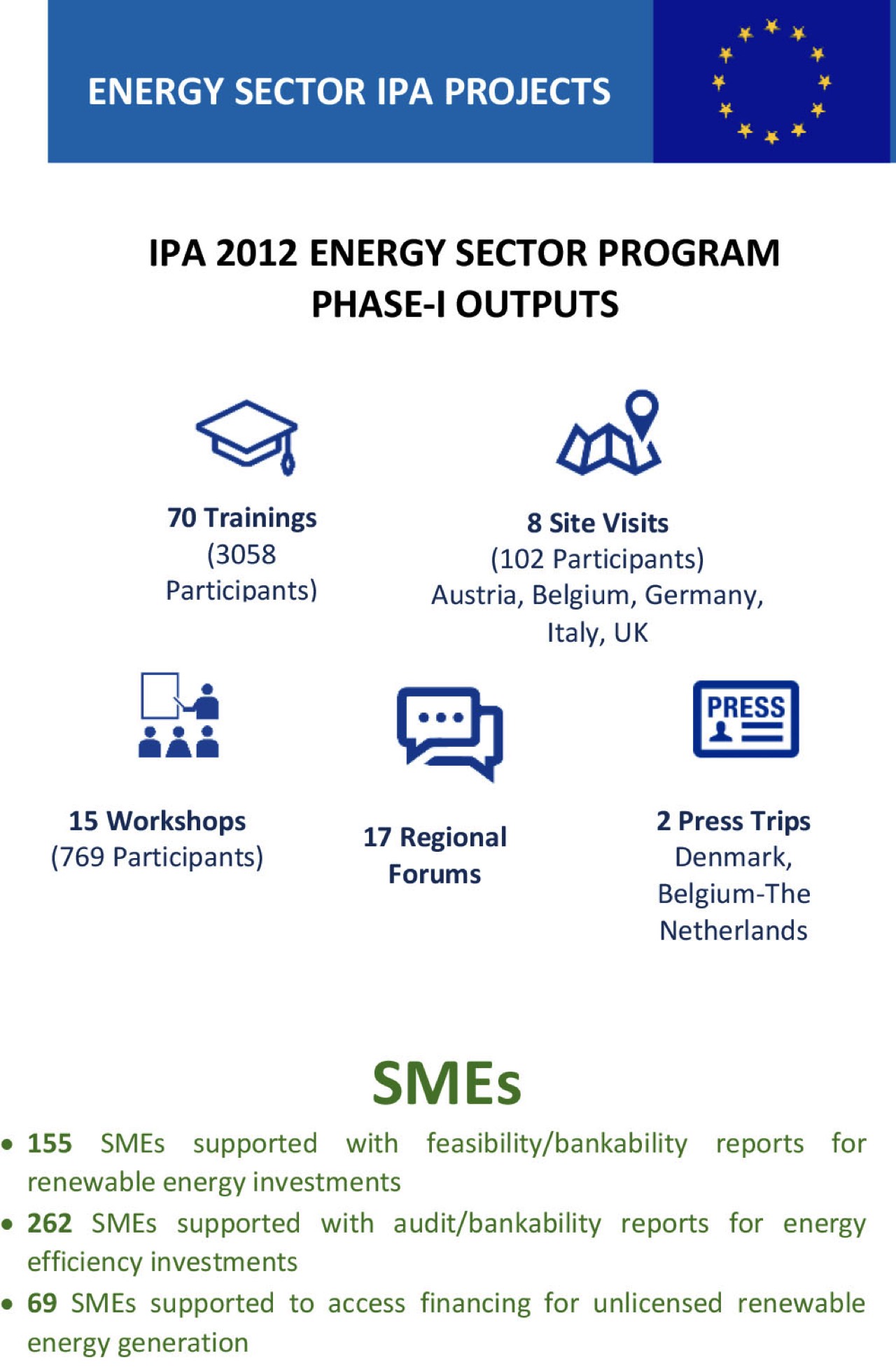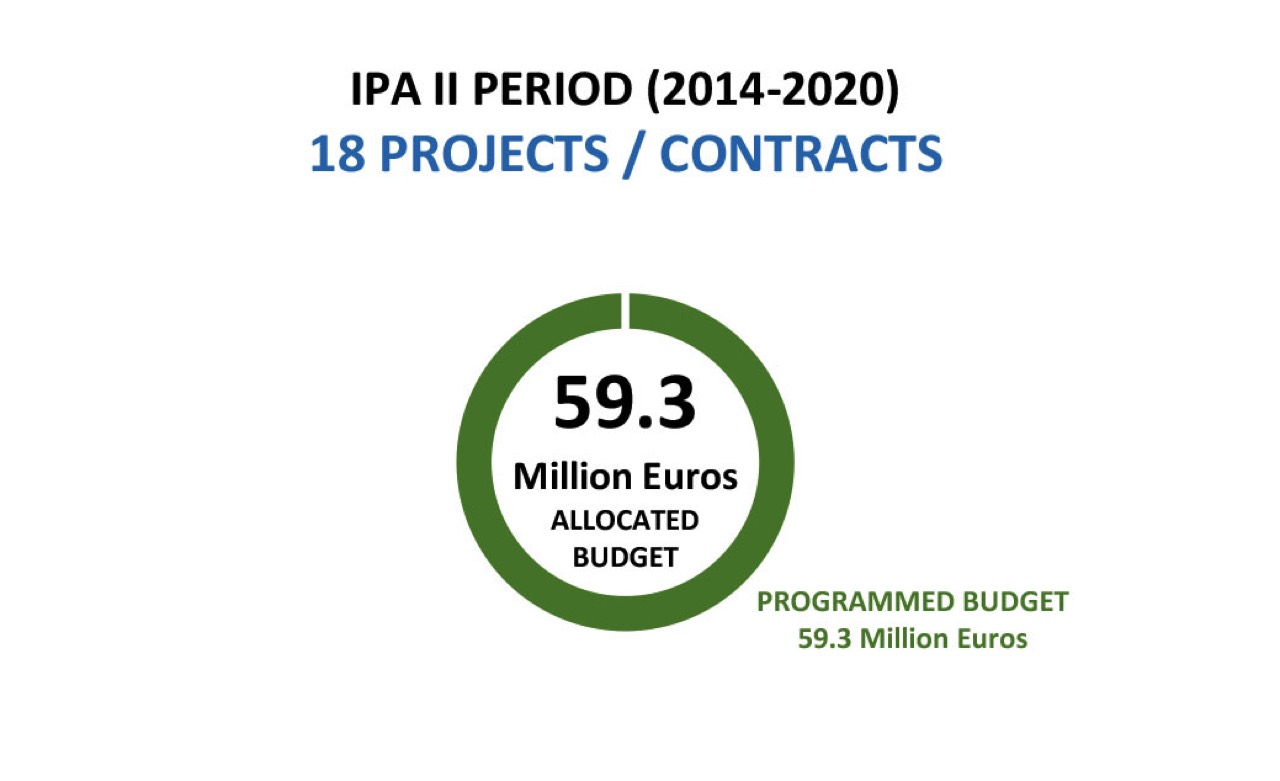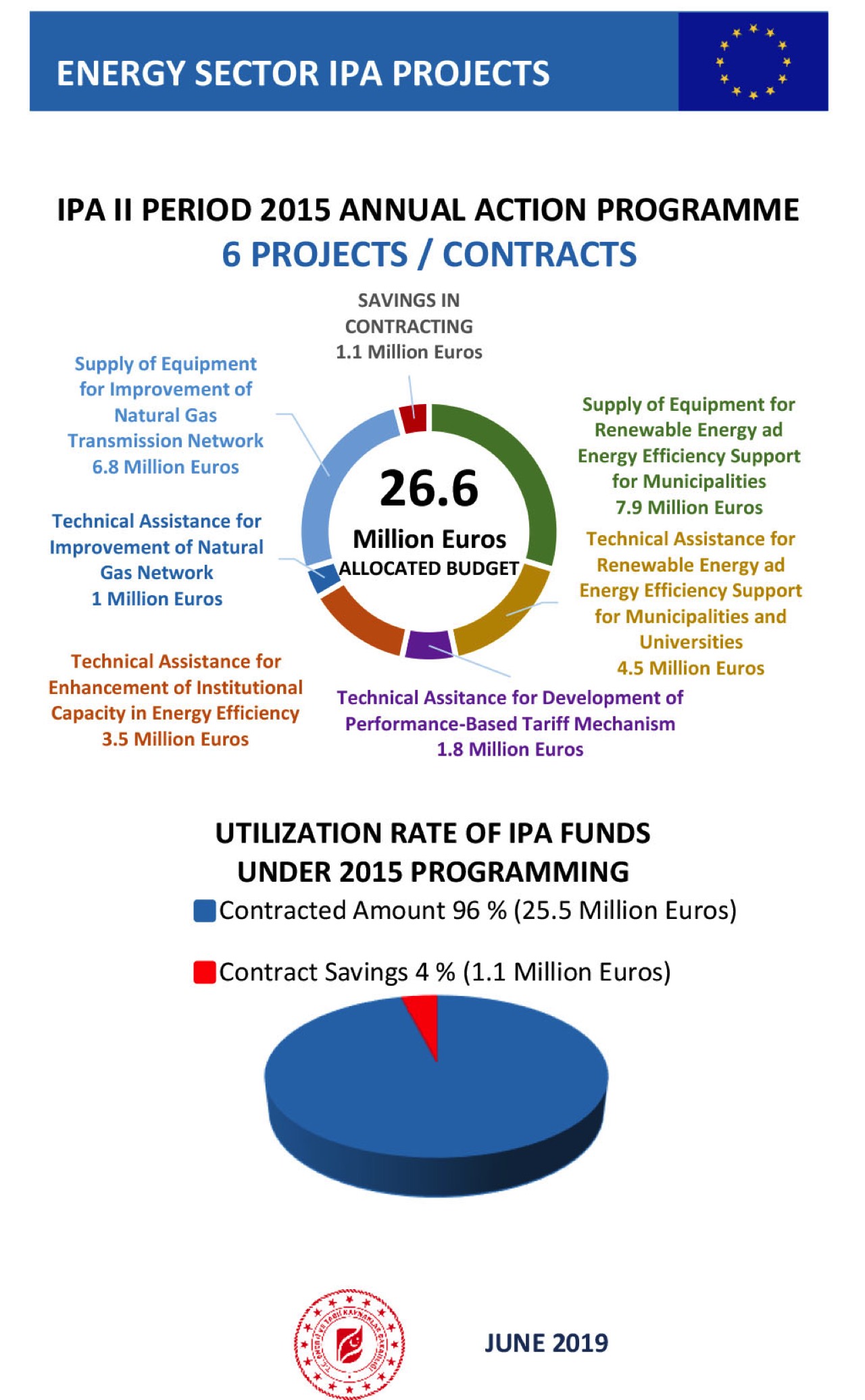 Click to view all IPA projects.
Click to view Contract Notices and Tender Announcements for IPA II projects.
Date of Update: 12 July 2023
Burada yer verilen bilgiler Bakanlığımız Web Sayfası kullanıcılarına bilgi verme amacıyla hazırlanmış olup bağlayıcı bir resmi belge niteliği taşımamaktadır.
The details presented here have been prepared with the aim of informing the users of the website of our Ministry, and do not possess the characteristics of official binding documents.