Yabancı Yatırımcılar İçin Doğal Gaz Yatırım Rehberi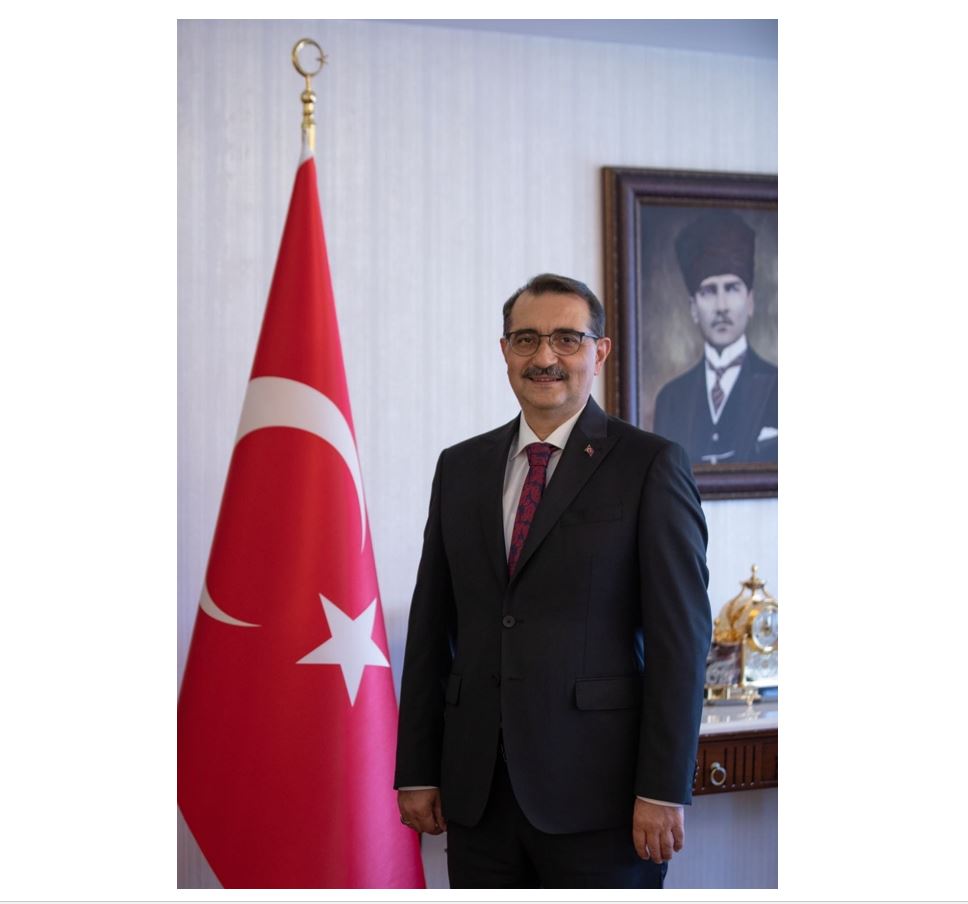 Since late 2019, the world has entered into a heightened period of volatility, uncertainty, complexity and ambiguity due to the COVID-19 pandemic. This new period requires uninterrupted flow of energy and market stability more than ever with increasing digitalization and home-based work. Further, the record-breaking surge in electricity, gas and coal prices are threatening the energy markets and post-COVID-19 recovery process for the world. As Türkiye, we felt the necessity to maintain and strengthen the resilience of the energy sector rapidly. There has been a greater need to adjust our energy policies, products and services to the new normal. The pandemic showed us that having flexible market structures in supply and demand plays a great role to tackle tough situations as we encountered.
Türkiye's energy sector is in a transition to ensure self-reliance, robustness, diversification, supply security, competitiveness, environment-friendly and low-carbon energy in compliance with its national circumstances. So far, the sector has been driven by two major characteristics: growing energy demand and import dependency, both of which are impacted by steady economic development with averagely 5% annual growth coupled with sectoral leaps in energy. To tackle these challenges, Türkiye has had its own circumstantial energy transition phases, first of which lasted a decade over the period of 2001-2016. During this first stage, Türkiye introduced radical reforms and restructuring in the energy sector including independent regulation of the sector by the Energy Market Regulatory Authority, enabling a level playing field for new market entrants, liberalization in power generation, distribution and trade as well as gas distribution and retail, and stepping up efforts to support the growth of renewable energy sources like solar and wind. Ensuring non-discriminatory access to energy markets mobilized sizeable private sector investments and involvement in energy activities. Since then the installed capacity in energy generation, for instance, has almost tripled and the energy landscape in Türkiye's consumption and power generation patterns have altered.
Having reached a certain maturity threshold with the introduction of the Energy Exchange Istanbul (EPIAS) for electricity and natural gas transactions, Türkiye has stepped into the second phase of the energy transition which is mainly inspired by the National Energy and Mining Policy Strategy announced in 2017. This new stage emphasizes the three main pillars of the Strategy, which are (i) reinforcement of security of supply, (ii) localization through renewable and domestic sources and (iii) enhancement of predictability in the market. Cross-cutting these pillars; market reforms, utilization of renewable resources, improvement of energy efficiency, deployment of new technologies and new infrastructure investments are the main objectives of our policy. This Strategy introduced a new framework for conceptualizing the progress we have already achieved long ago into a more structured and clearer pathway. In the light of the positive track record we have achieved in all sub-sectors of the energy sector, Türkiye has achieved remarkable progress in creating a regulatory framework with a transparent and competitive market structure in convergence with EU markets. Political stability and good governance have eased the movements of private sector investments in the field of energy.
Türkiye continues to be an island of stability and growth with nearly 5.5% annual economic growth between 2002-2021. Moreover, Türkiye has become the second-fastest growing economy among the OECD countries in the second half of 2021 with an economic growth of 7.4%. During this economic boom period, gas sector has gone through a reform and restructuring process. Additionally, with its two Floating Storage Regasification Units in operation and a third in the pipeline, 4.4 bcm underground gas storage capacity to reach 11 bcm in 2023, 4th largest European gas market with around 59 bcm annual gas consumption, Türkiye is ready to become a regional gas hub. with its technical and commercial infrastructure almost complete. Energy Exchange Istanbul established the natural gas Continuous Trade Platform in 2018 and introduced physically delivered natural gas weekly products to the market in June 2020. In October 1st 2021, EXIST launched the Natural Gas Futures Market which will increase the market depth and enhance competition through providing a tool for risk management for the market players. Additionally, thanks to the discovery of 540 bcm of gas in the Black Sea, Türkiye has now also become a potential gas producer to start first gas delivery into the grid by 2023 and plateau production by 2026. We have been continuing exploration studies both in Black Sea and Mediterranean with 4 drilling and 2 seismic ships.
Electricity demand increased by 7.7% in 2021 compared to 2020, as the impact of the pandemic waned. In parallel, gas demand, mainly used for power generation, has fallen by 44% in the last three months as well. While decrease in residential use was negligible with 2%, the industry experienced a 16% reduction in gas consumption due to slowdown in economic activities thanks to restrictions. However, starting from June, Türkiye has started to lift restrictions and normalize its economic activities resulting in a rapid recovery in energy consumption. In line with this, gas consumption has increased to 58.8 bcm in 2021 with a 21% increase comparing to the previous year. In 2022, the gas consumption is expected to become around 60.4 bcm, corresponding to an increase of 22% compared to 2020, due to increasing demand and drought.
Türkiye has continued to be a safe harbor and a leading actor in its region for further investments. In line with this objective, we, as the Ministry of Energy and Natural Resources, published the Investor's Guide in the last quarter of 2018, 2019 and 2020 thanks to the high attention it has attracted.
Taking this opportunity, I would like to invite all investors to take part in Türkiye's lucrative energy sector.
Türkiye's Macroeconomic Overview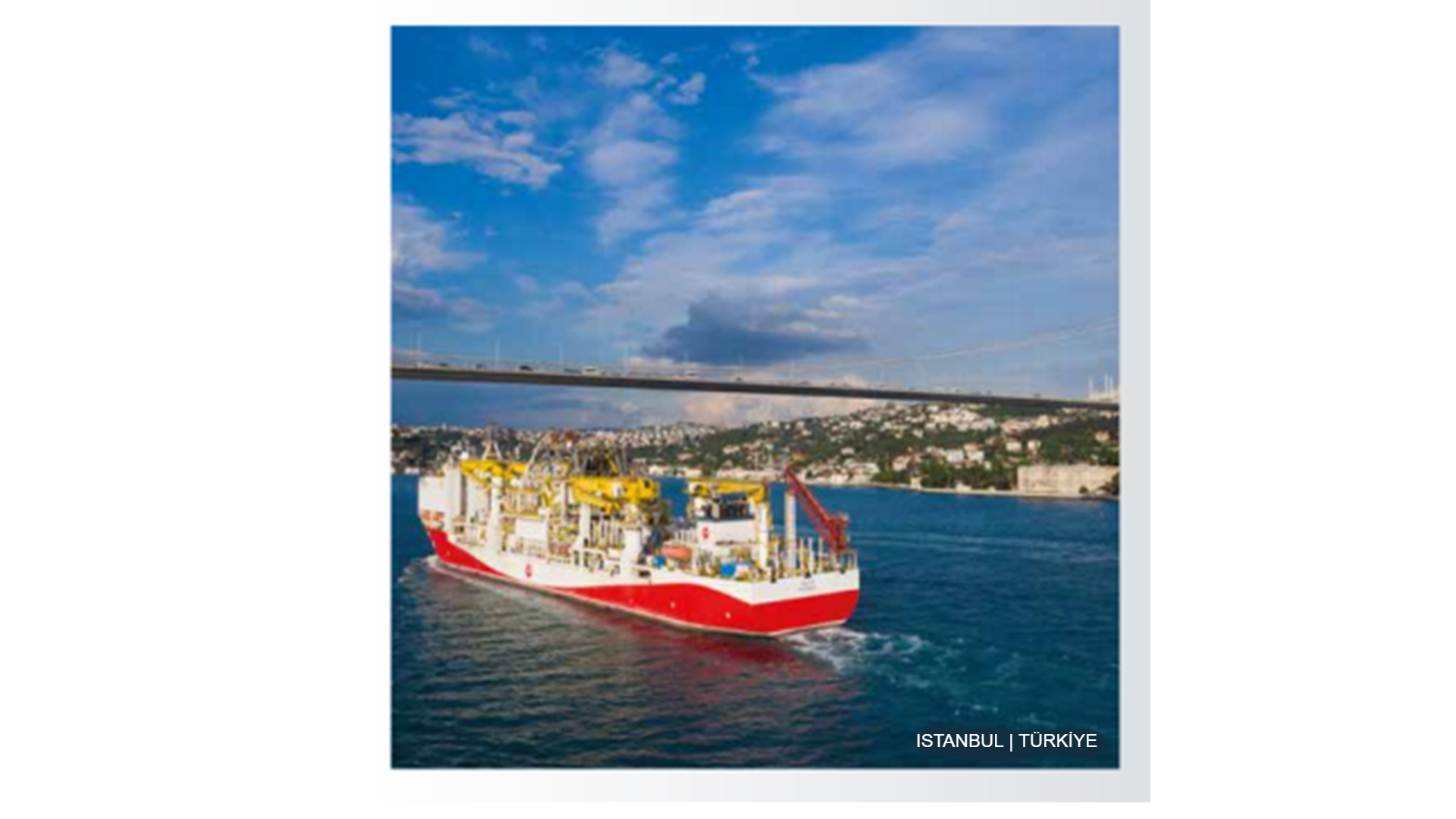 Over the past decade, Türkiye has emerged as a strong regional player with global ambitions to be one of the top 10 economies in the world. As of end-2020, Türkiye is the 11th largest economy (GDP at PPP terms) in the world, with an impressive annual growth rate of 5.5% in the 2002-2021 period. Moreover, Türkiye has become the fastest growing economy among the OECD countries in 2021 with an economic growth of 11%. Strong market fundamentals such as a young and dynamic population with an average age of 33.1, a well-educated work force, increasing rates of employment over the years, a growing middle-class, and a unique geographical location, have all helped transform Türkiye into one of the fastest growing and outstanding economies in the world.
Türkiye is taking actions to improve its economic fundamentals. For instance, a series of government measures is set to reduce the current account deficit, with one such measure being that international investments can be used as leverage to support the localization of technologies and products. In addition, in priority sectors where Türkiye is dependent on imports of intermediate goods, international companies are being attracted to the country to produce these goods locally.
An example of this is the energy sector, which had a very high external dependence a decade ago. With the implementation of various measures, it is expected that the localization rate in the sector could rise to over 65% in the coming 5 to 10 years.
Türkiye enacted the Foreign Direct Investment Law (FDI) in 2003 enshrining equal treatment for all investors, both foreign and domestic, and providing them with certain guarantees such as international arbitration, guarantee of profit transfer and protection against expropriation. The economic development and structural reforms have made Türkiye one of the most attractive destinations for FDI. FDI inflow to Türkiye amounted to over USD 240 billion in the 2002-2021 period. In the same period, all FDI inflow to the energy sector stood at about USD 18.4 billion. Similarly, the number of companies with foreign capital in Türkiye reached 76,741 in 2021, up from 5,600 in 2002.

HY INVEST IN NATURAL GAS SECTOR IN TÜRKİYE?
Turkish Gas Market Overview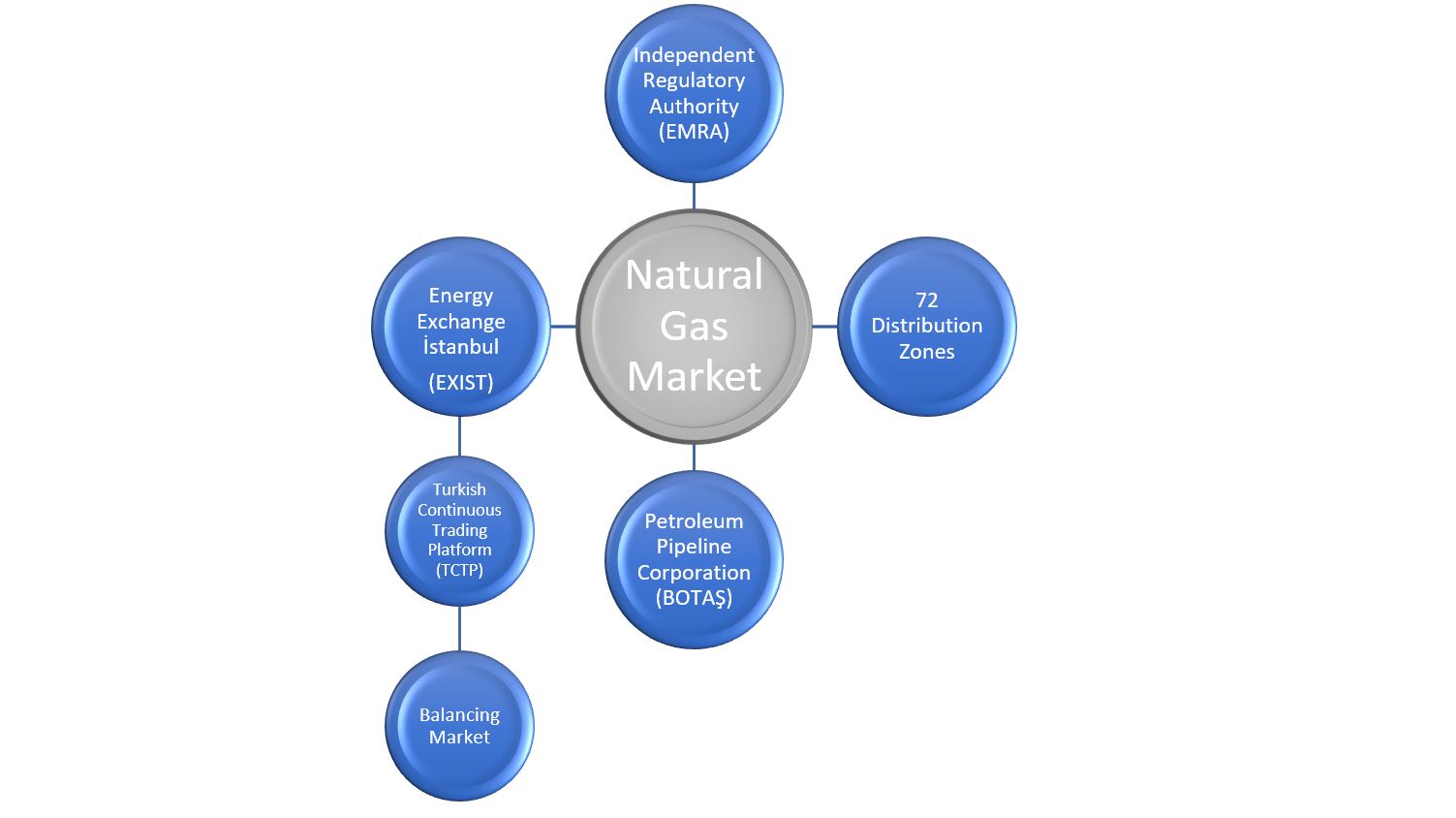 Natural gas has been used extensively for power generation in Türkiye since the late 1980s. Türkiye is increasingly utilizing natural gas, having established long-term purchase contracts with the Russian Federation, Algeria, Iran and Azerbaijan. Türkiye also buys spot and short and medium term natural gas and liquified natural gas ("LNG") from the market. Türkiye has very limited domestic gas reserves and national gas production represents less than 1% of the total domestic demand. Consequently, nearly 99% of natural gas demand is satisfied by imports.
However, with the recent discovery of natural gas reserves in the Black Sea corresponding to 540 bcm, Türkiye aims at reducing its import dependency along with contributing to its security of supply.
Natural Gas Supply in Türkiye
Türkiye imported 26.3 bcm of natural gas from the Russian Federation, 8.8 bcm of natural gas from Azerbaijan and 9.4 bcm of natural gas from Iran in 2021. Additionally, Türkiye also imported 6 bcm and 1.2 bcm of natural gas from Algeria and Nigeria respectively, in LNG form by long term contracts. On the other hand, Türkiye also imported Spot LNG from Qatar, the USA, Nigeria, Trinidad and Tobago, Egypt, and Spain.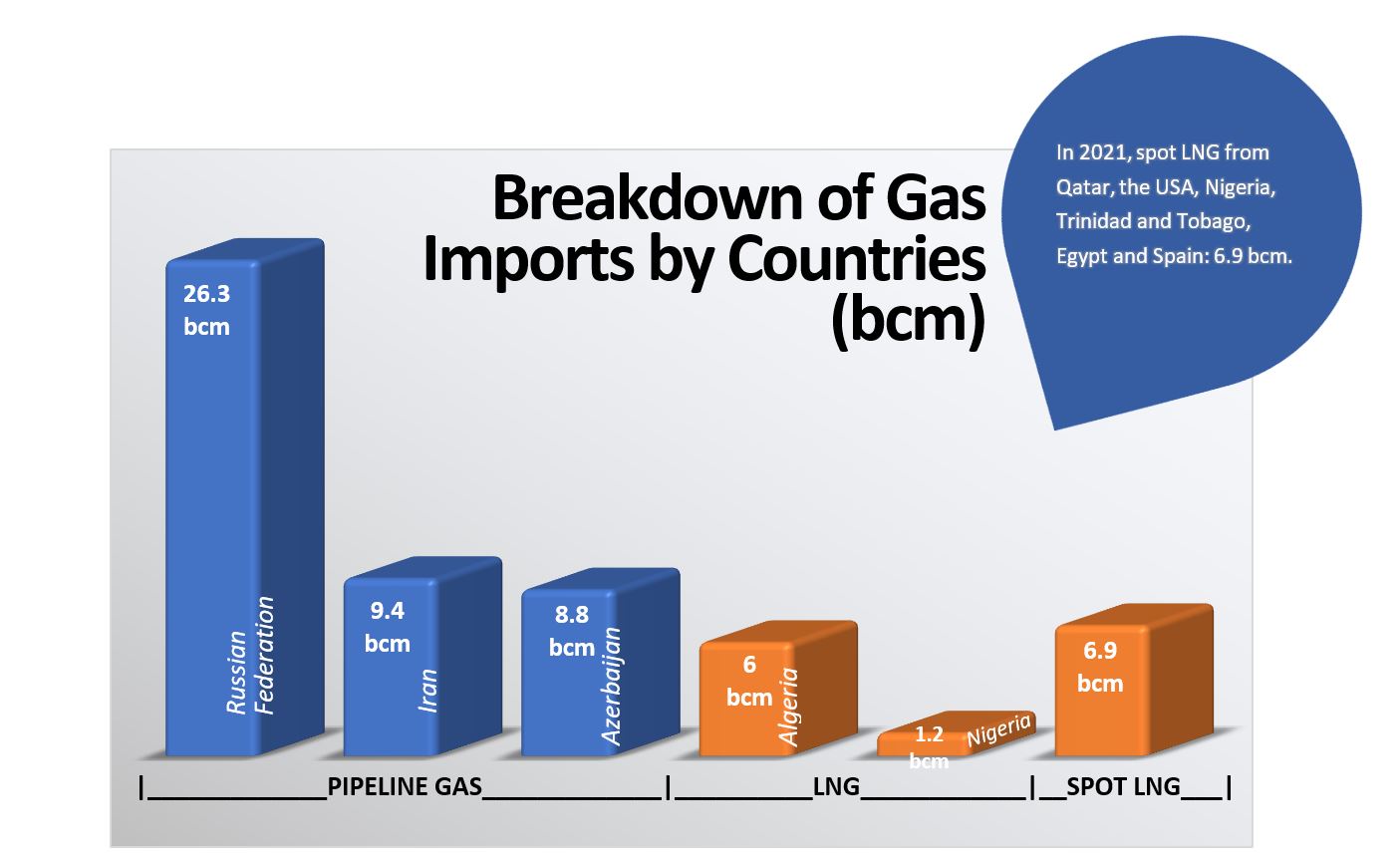 On the other hand, Natural Gas Market Law Nr.4646 was amended to allow the spot import facilities through pipeline entry points in 2018, and "The Regulation on Determination of Spot Pipeline Import Methods and Quantities" has come into force in September 2019. The regulation allows the license holders reserve annual, quarterly and monthly import capacities. Spot import capacity auctions are conducted monthly via the electronic platform implemented and operated by EMRA. The first spot pipeline imports were realized via the Bulgaria - Malkoçlar Entry Point by two private firms in 2020 utilizing spot capacities allocated by the capacity auctions held by EMRA. In 2021, first capacity reservation for spot imports from Azerbaijan via Türkgözü Entry Point was finalized.
Gas consumption which totaled 58.8 bcm in 2021 was composed of; 27.4% households, 35.3% electricity production, 28.9% industry, 7.9% service sector and 0.5% other sectors' share. Türkiye's gas consumption is expected to be around 60.4 bcm in 2022 due to increasing gas demand and drought.
Distribution is carried out by local distribution companies. Currently 81 provincial cities corresponding to entire Türkiye are supplied with natural gas through 72 distribution zones.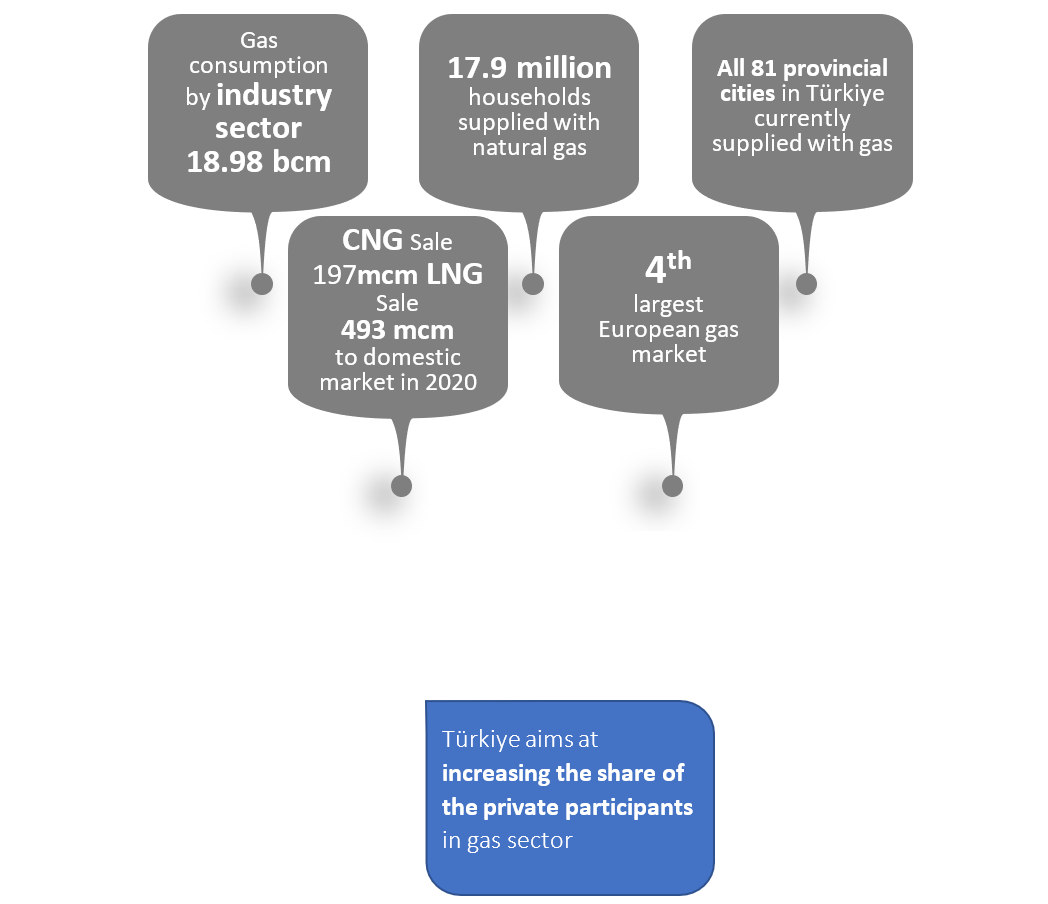 In 2021, total natural gas supply amounted to 58.2 bcm, 93.2% of which was imported by BOTAŞ, 6.7% of which was imported by the private sector, and 0.1% of which was produced domestically. Türkiye aims at increasing the share of private participants in gas sector.
Liberalization of Natural Gas Market in Türkiye
The foundation of the Organized Natural Gas Wholesale Market is an important step towards establishing Türkiye as an international gas trade center, allowing the trade of gas from different sources. The Organized Natural Gas Wholesale Market provides market players with crucial price signals about the market and contributes to the liberalization of the natural gas market. In 2015, Energy Exchange İstanbul (EXIST) or in Turkish, Enerji Piyasaları İşletme A.Ş. (EPİAŞ) was established to operate the organized wholesale markets. EXIST currently operates electricity and natural gas spot markets.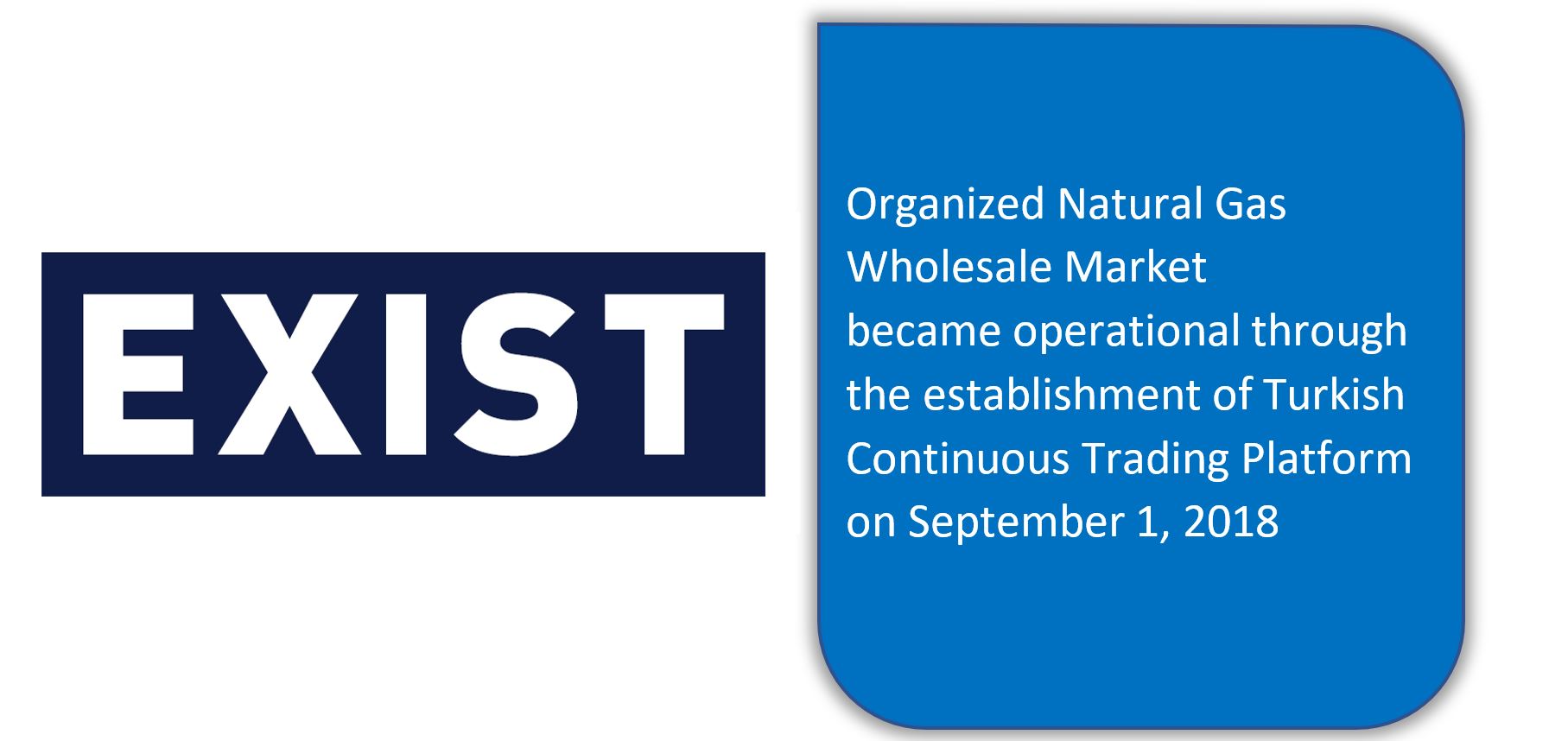 Turkish spot natural gas market was launched within the Energy Exchange İstanbul on September 1st, 2018. The day-ahead and intra-day market are operated on Turkish Continuous Trading Platform (TCTP). Moreover, network balancing operations are carried out by BOTAŞ on TCTP. TCTP is the first natural gas trading platform in the region generating daily price signals. In 20210, the transaction volume in the Spot Natural Gas Marketreached 1.231 billion Sm3 Furthermore, EXIST introduced week and weekend products to the TCTP as the part of the Organized Natural Gas Market on 1st of June 2020. In this context, as of June 1, 2020, in addition to daily contracts, "Weekly Products" are offered to market participants in the spot market. Weekly products allow market participants to trade on a 2-day weekend contract, a 5-day weekday contract, and a 7-day weeklong contract. EXIST launched the simulation of Natural Gas Futures Market (GFM) on June 30, 2021 and GFM was launched on October 1, 2021. Finaly, EXIST launched EXIST Help Desk (EHD) to provide continuous service support for its products and services.
Energy Market Regulatory Authority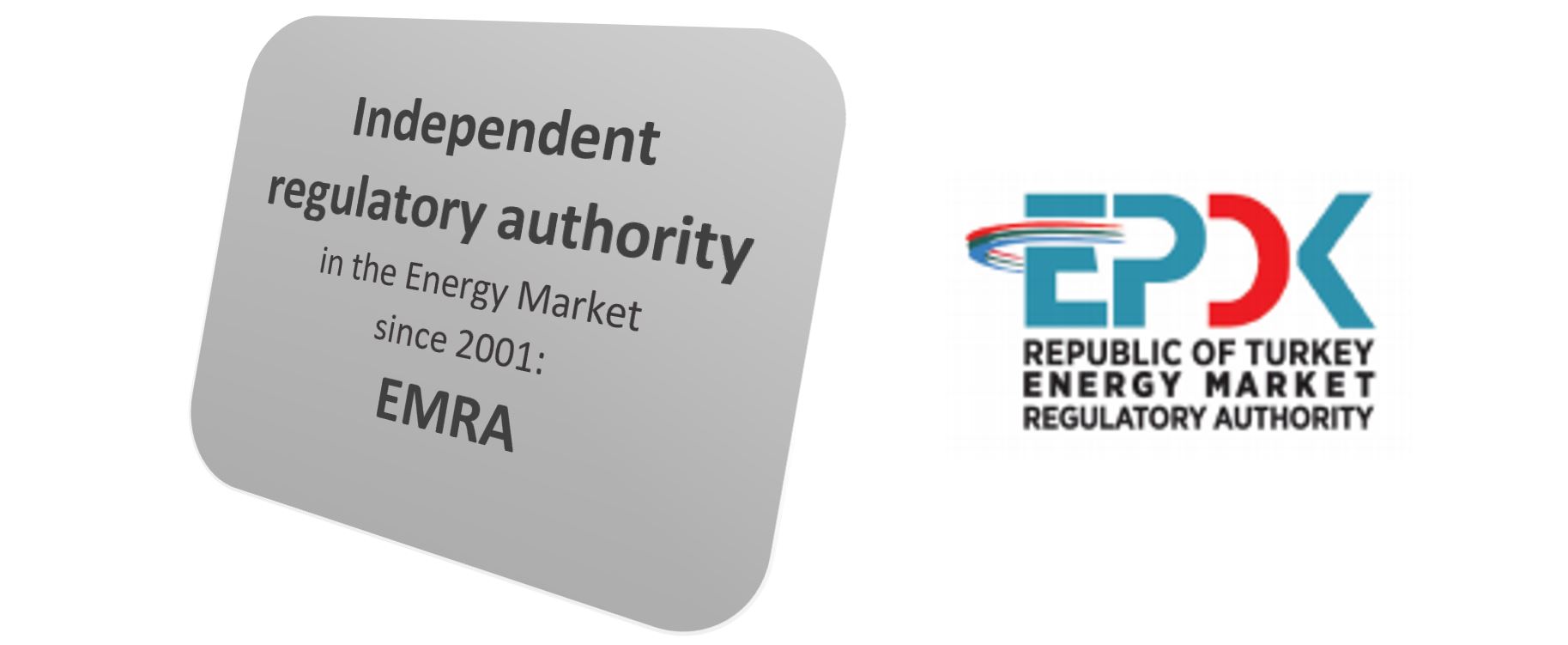 Energy Market Regulatory Authority (EMRA) was established in 2001 in order to perform the regulatory and supervisory functions in the energy markets. The fundamental objective of EMRA is to ensure the development of financially sound and transparent energy markets operating in a competitive environment. It is also EMRA's responsibility to maintain the delivery of sufficient, high-quality, low-cost and environment-friendly energy to consumers and to ensure the autonomous regulation, licensing and supervision of electricity, natural gas, and downstream petroleum and LPG markets.

Natural Gas Infrastructure in Türkiye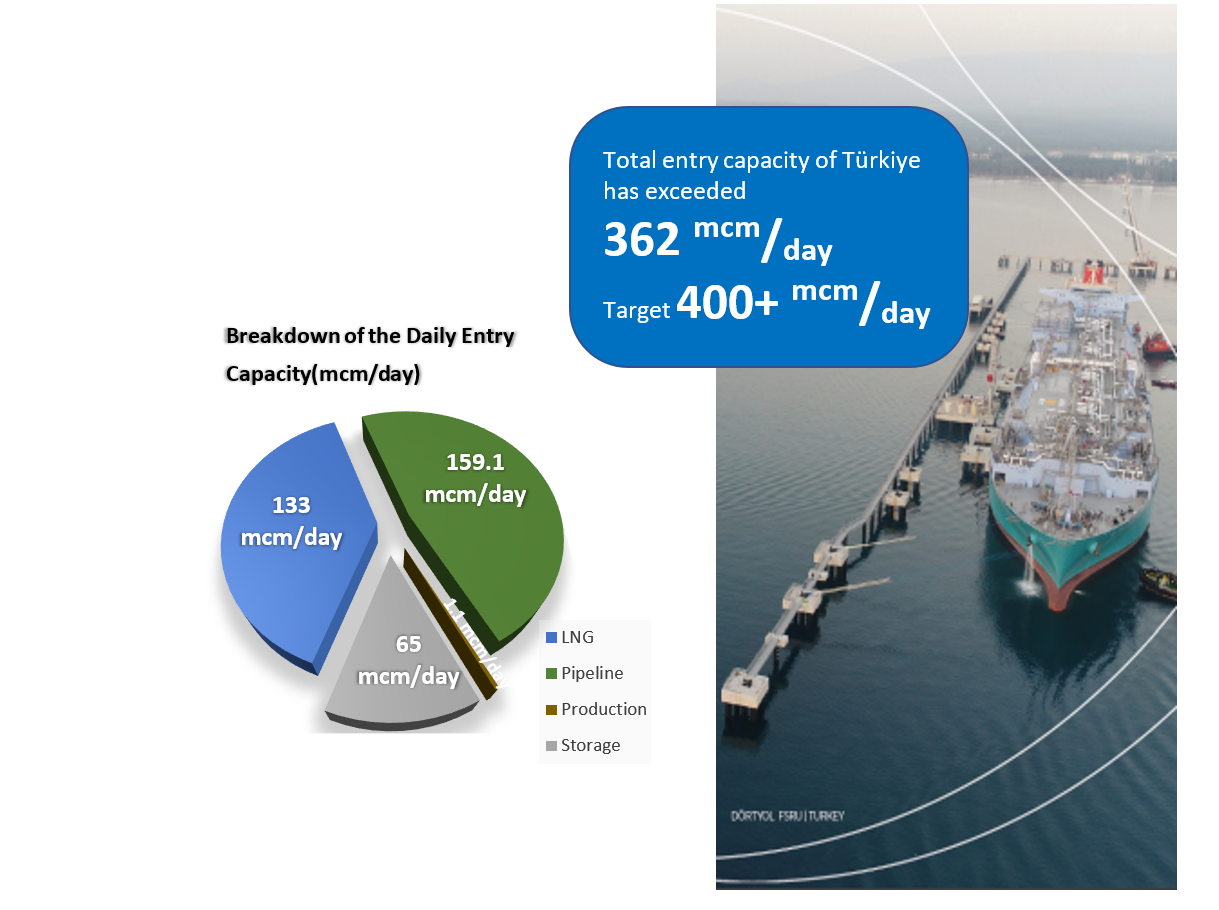 Together with the increased LNG and underground storage capacity, total entry capacity of Türkiye has exceeded 362 mcm/day. Türkiye aims at increasing the total entry capacity to more than 400 mcm/day by 2023. Considering the fact that the highest peak demand from natural gas transmission grid was 288 mcm/ day (on 19 January 2022), Türkiye's gas infrastructure is expected to meet the rapid increase in demand in the upcoming years.
LNG
The increased regasification capacity of the LNG terminals exceeding 133 mcm/day as a result of upgrades to the terminals and the new Floating Storage and Regasification Unites (FSRUs) owned by BOTAŞ and by the private sector, are significant steps to ensure security of supply in the natural gas market. Tariffs on LNG terminal including FSRUs have been liberalized as of 2017, in line with the Natural Gas Market Law articles dictating that such storage tariffs should be set freely between parties provided that there's sufficient capacity.

UNDERGROUND STORAGE
Türkiye's storage capacity of natural gas and the amount of stock are increasing rapidly. As of December 2021, the total capacity of underground natural gas storage reached 4.04 bcm, with a daily send out capacity of 68 mcm. With the new investments, the total capacity of Silivri Underground Storage will reach 4.6 bcm with a daily send out capacity of 75 mcm/day and the total capacity of Tuz Gölü Underground Storage will reach 5.4 bcm, with a daily send out capacity of 80 mcm/day.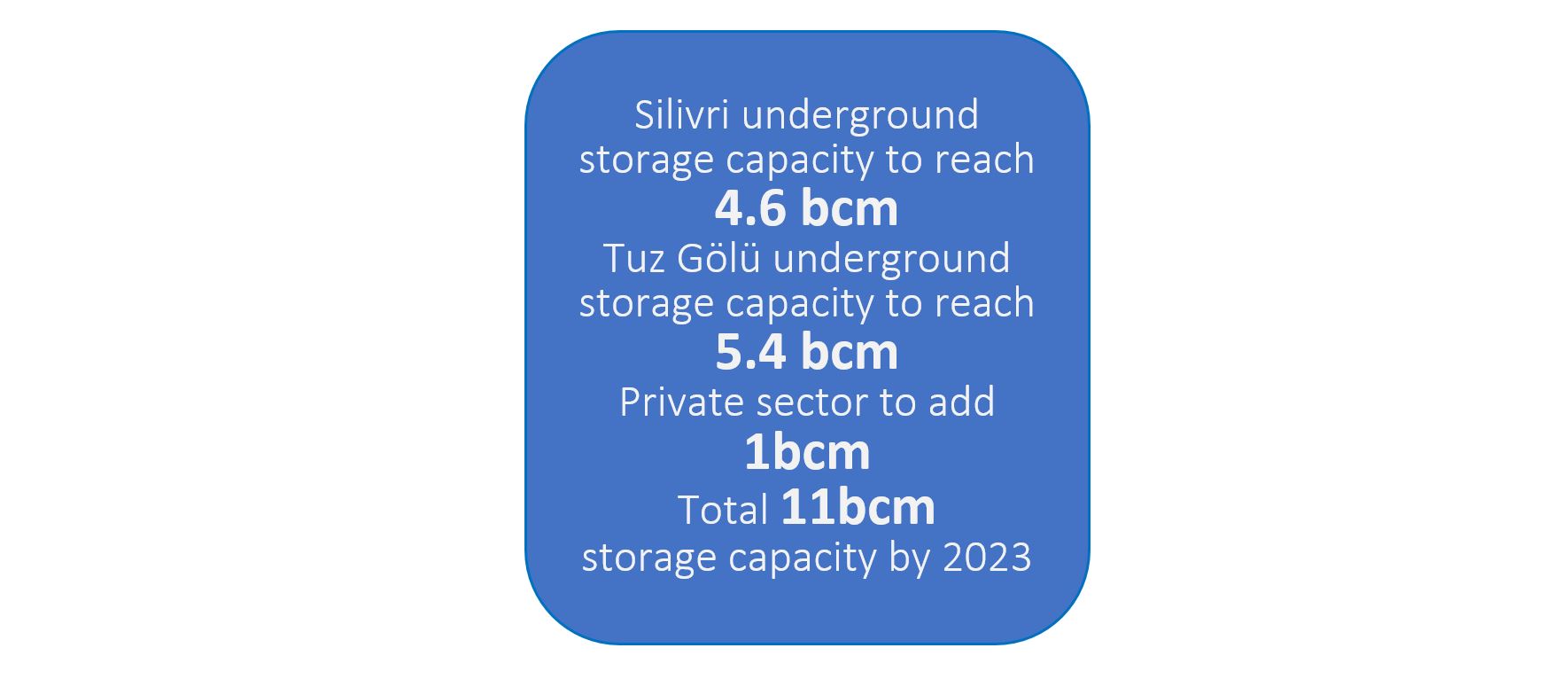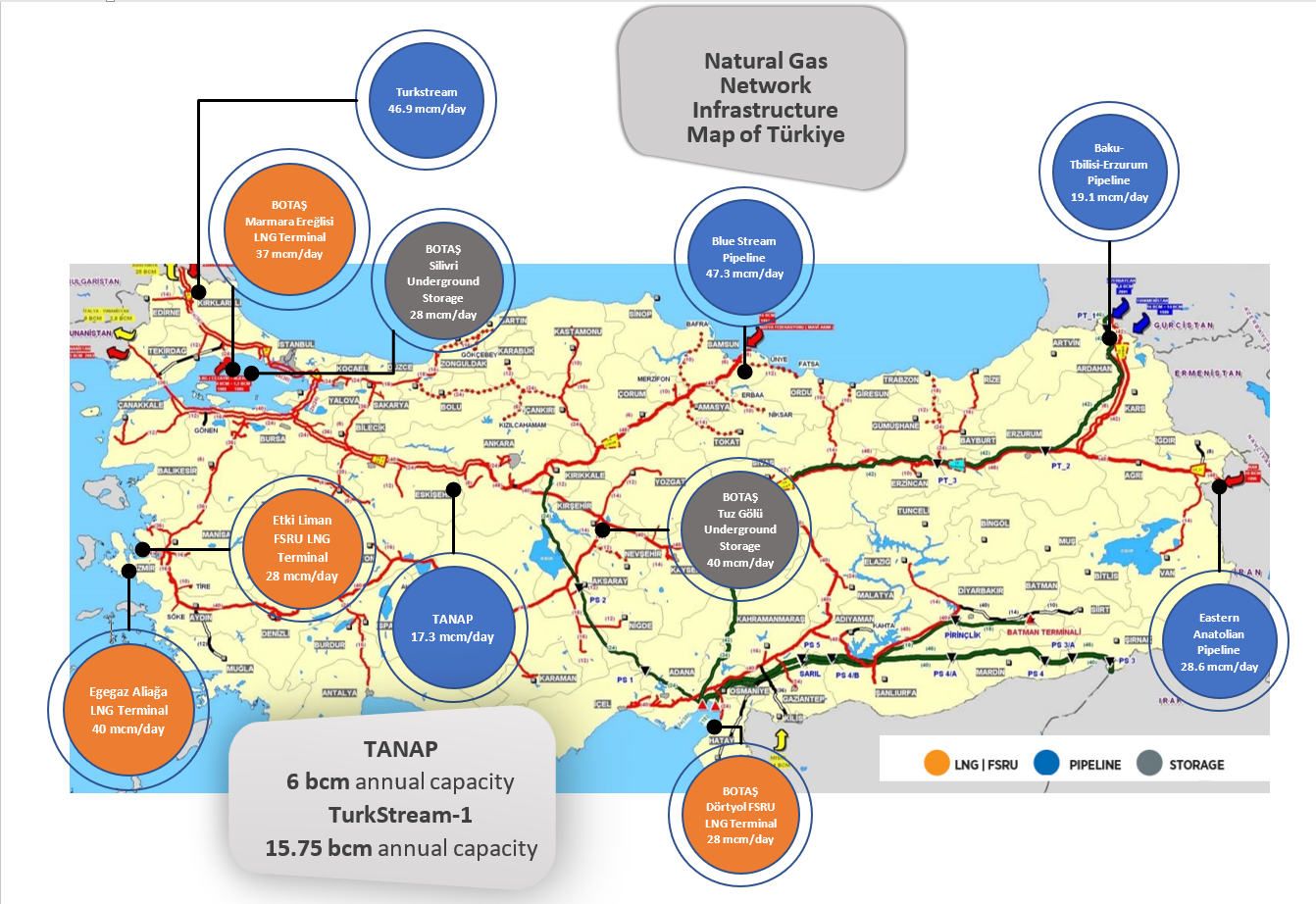 Investment Potential for Natural Gas Trade in Türkiye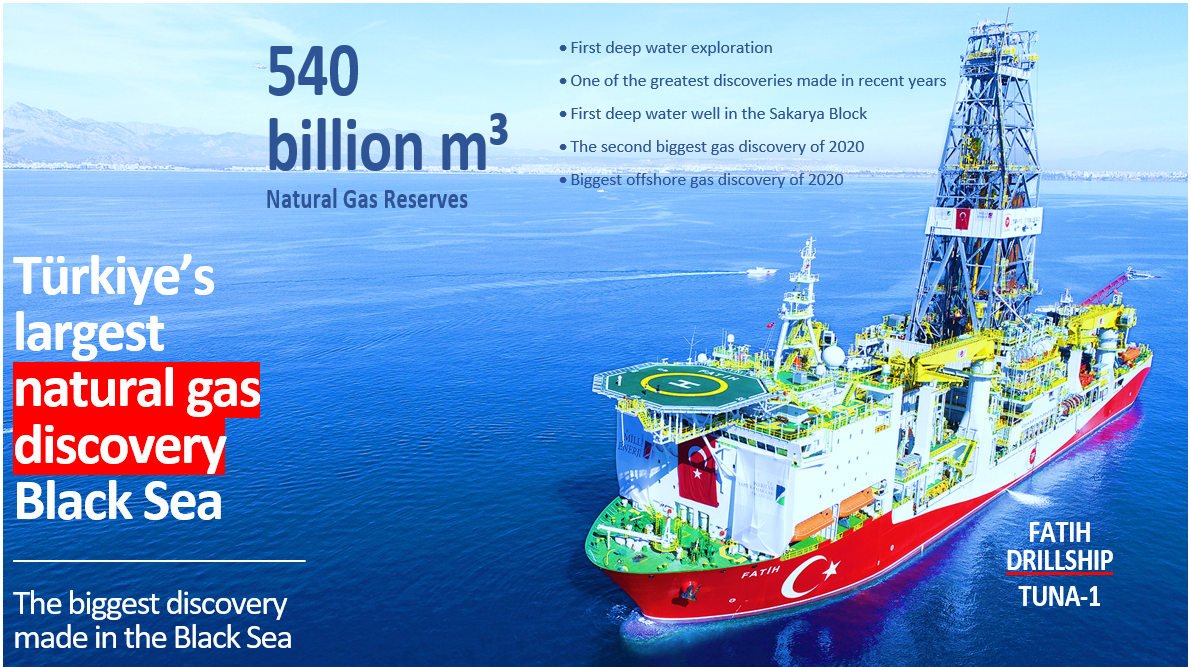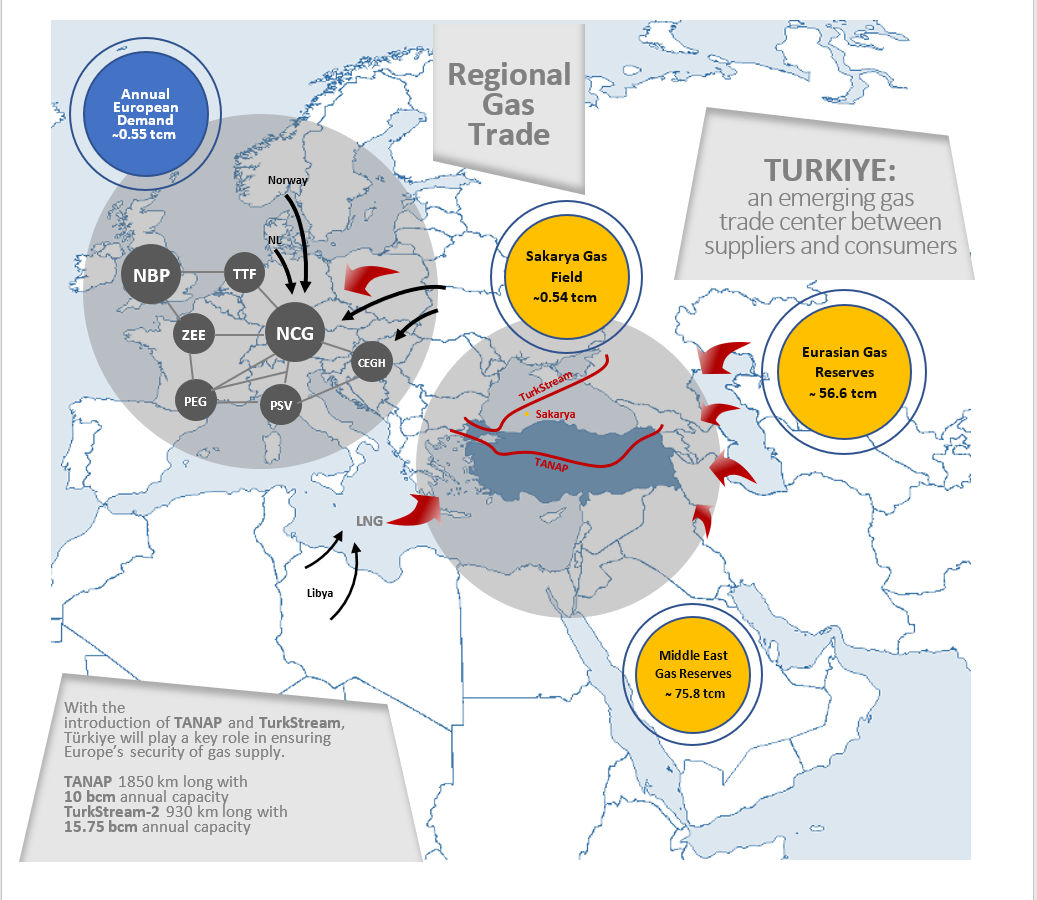 *There are additional procedures for gas imports via pipeline. For import license applications regarding the source countries where BOTAŞ does not have any existing contract, the Board Decision dated 13 April 2006 and numbered 725 applies. Regarding the source countries where BOTAŞ has existing contracts, new import contracts can be made for the same amounts upon the termination of existing contracts. However, in case of a domestic shortage of gas, EMRA can decide to issue additional licenses to private enterprises.
**Unlike in other licenses, EMRA asks for MENR's opinion about the place of the gas storage facility following Step3. In case of multiple applications for a certain place, applications are evaluated in accordance with the provisions of the "Regulation on the Selection of Legal Persons Applying for Natural Gas Storage License in the Same Place"
The in-city natural gas distribution service shall be granted to the company which wins the tender announced by EMRA within a license term to be determined by the Authority.
1 Energy Market Regulatory Authority. www.epdk.gov.tr/Home/En
2 Energy Exchange Istanbul. www.epias.com.tr/en
3 Petroleum Pipeline Corporation. www.botas.gov.tr
Güncelleme Tarihi :
14.07.2023