Yabancı Yatırımcılar İçin Maden Yatırım Rehberi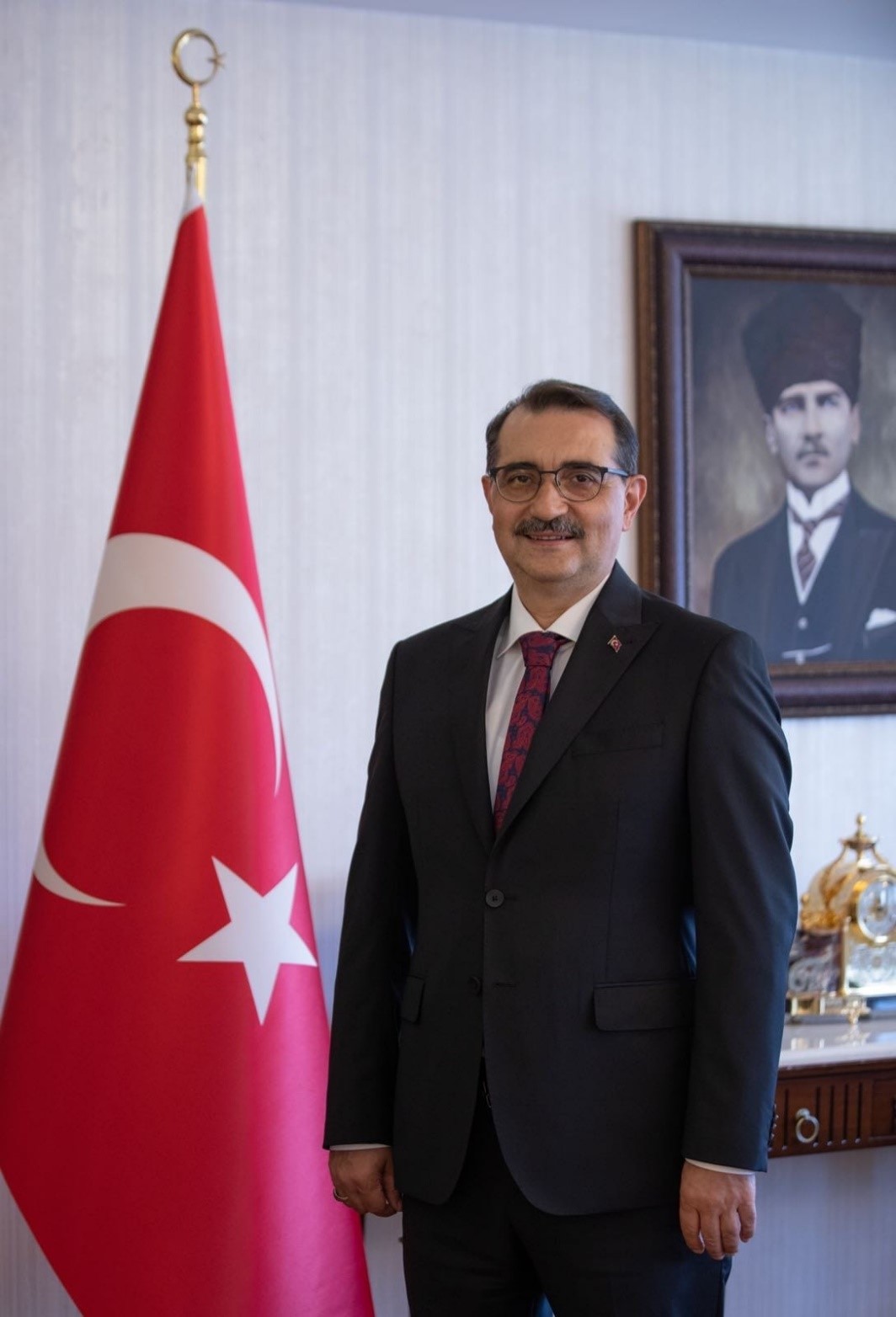 Since late 2019, the world has entered into a heightened period of volatility, uncertainty, complexity and ambiguity due to the COVID-19 pandemic. This new period requires uninterrupted flow of energy and market stability more than ever with increasing digitalization and home-based work. As Turkey, we felt the necessity to maintain and strengthen the resilience of the energy and mining sectors rapidly. There has been a greater need to adjust our policies, products and services to the new normal. The pandemic showed us that having flexible market structures in supply and demand plays a great role to tackle tough situations as we encountered.
Turkey continues to be an island of stability and growth with nearly 5,1% annual economic growth between 2002-2020. During this economic boom period, mining sector has gone through a reform and restructuring process. Ensuring non-discriminatory access to mining exploration and operation activities mobilized sizeable private sector investments. Since then number of foreign investors in Turkey's mining sector have drastically increased.
Turkey's mining sector is in a transition to ensure safety, license assurance, simplification of license application, and reduction of bureaucracy to mobilize further investments in an environmentally friendly attitude. We aim to increase the mining sector's share in GDP in the medium term. Accordingly, Turkey announced its new National Energy and Mining Policy Strategy in 2017 which is built upon three main pillars: (i) reinforcement of security of supply, (ii) localization through renewable and domestic sources and (iii) enhancement of predictability in the market. Cross-cutting these pillars; market reforms, utilization of clean resources, deployment of new technologies and new infrastructure investments are the main objectives of our policy. This Strategy introduced a new framework for conceptualizing the progress we have already achieved long ago into a more structured and clearpathway.
Political stability and good governance have eased the movements of private sector investments in the field of mining. Turkey has achieved remarkable progress in creating a regulatory framework to enable attractive opportunities.
In 2021, despite the COVID-19 outbreak, Turkey has ensured rapid recovery from restrictions and continued to be a safe harbor and a leading actor in its region for further investments. Taking this opportunity, I would like to invite all investors to take part in Turkey's lucrative mining sector.
Turkey's Macroeconomic Overview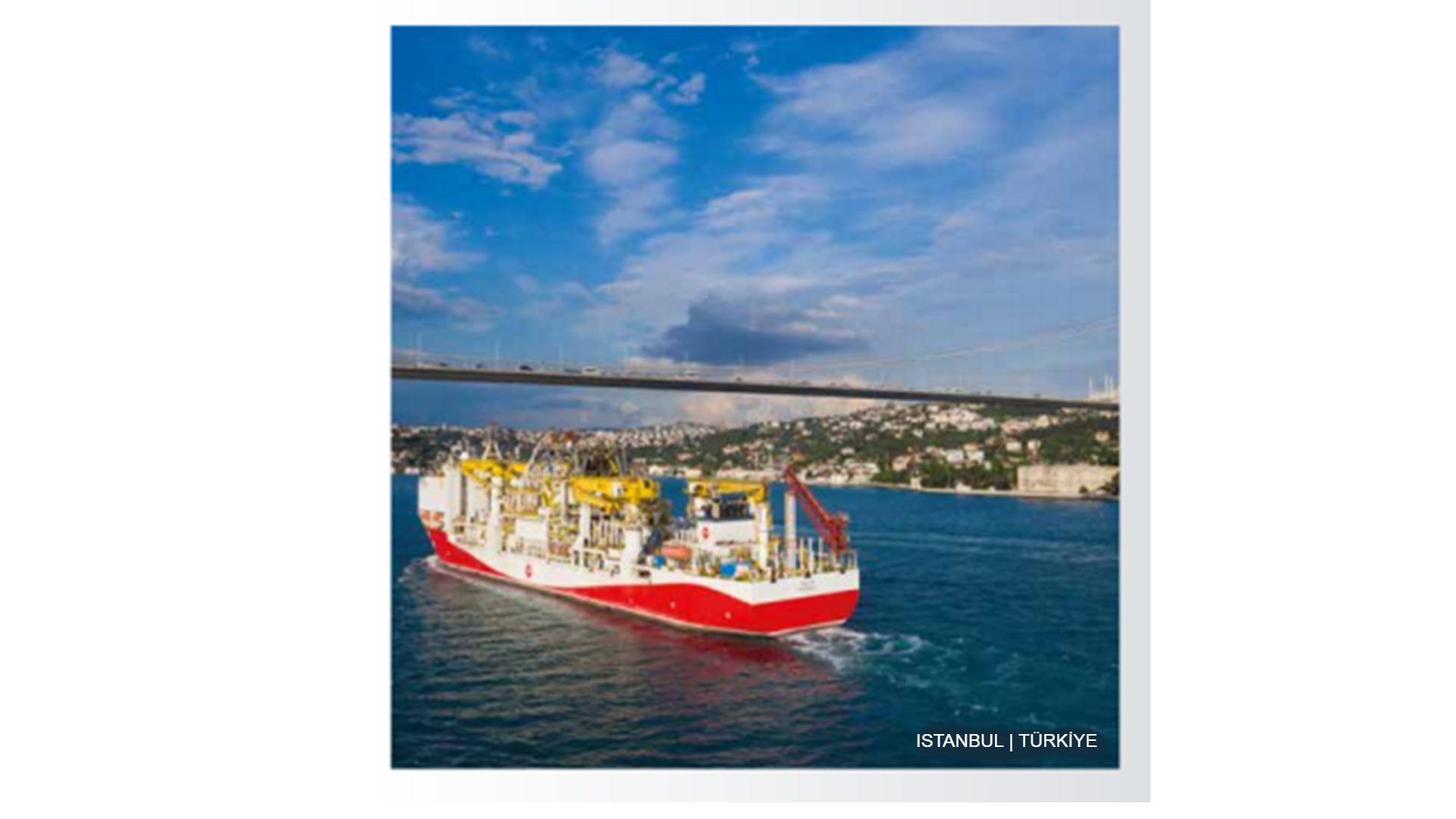 Over the past decade, Turkey has emerged as a strong regional player with global ambitions to be one of the top 10 economies in the world. As of end-2020, Turkey is the 11th largest economy (GDP at PPP terms) in the world, with an impressive annual growth rate of 5.5% in the 2002-2021 period. Moreover, Turkey has become the fastest growing economy among the OECD countries in 2021 with an economic growth of 11%. Strong market fundamentals such as a young and dynamic population with an average age of 33.1, a well-educated work force, increasing rates of employment over the years, a growing middle-class, and a unique geographical location, have all helped transform Turkey into one of the fastest growing and outstanding economies in the world.
Turkey is taking actions to improve its economic fundamentals. For instance, a series of government measures is set to reduce the current account deficit, with one such measure being that international investments can be used as leverage to support the localization of technologies and products. In addition, in priority sectors where Turkey is dependent on imports of intermediate goods, international companies are being attracted to the country to produce these goods locally.
An example of this is the energy sector, which had a very high external dependence a decade ago. With the implementation of various measures, it is expected that the localization rate in the sector could rise to over 65% in the coming 5 to 10 years.
Turkey enacted the Foreign Direct Investment Law (FDI) in 2003 enshrining equal treatment for all investors, both foreign and domestic, and providing them with certain guarantees such as international arbitration, guarantee of profit transfer and protection against expropriation. The economic development and structural reforms have made Turkey one of the most attractive destinations for FDI. FDI inflow to Turkey amounted to over USD 240 billion in the 2002-2021 period. In the same period, all FDI inflow to the energy sector stood at about USD 18.4 billion. Similarly, the number of companies with foreign capital in Turkey reached 76,741 in 2021, up from 5,600 in 2002.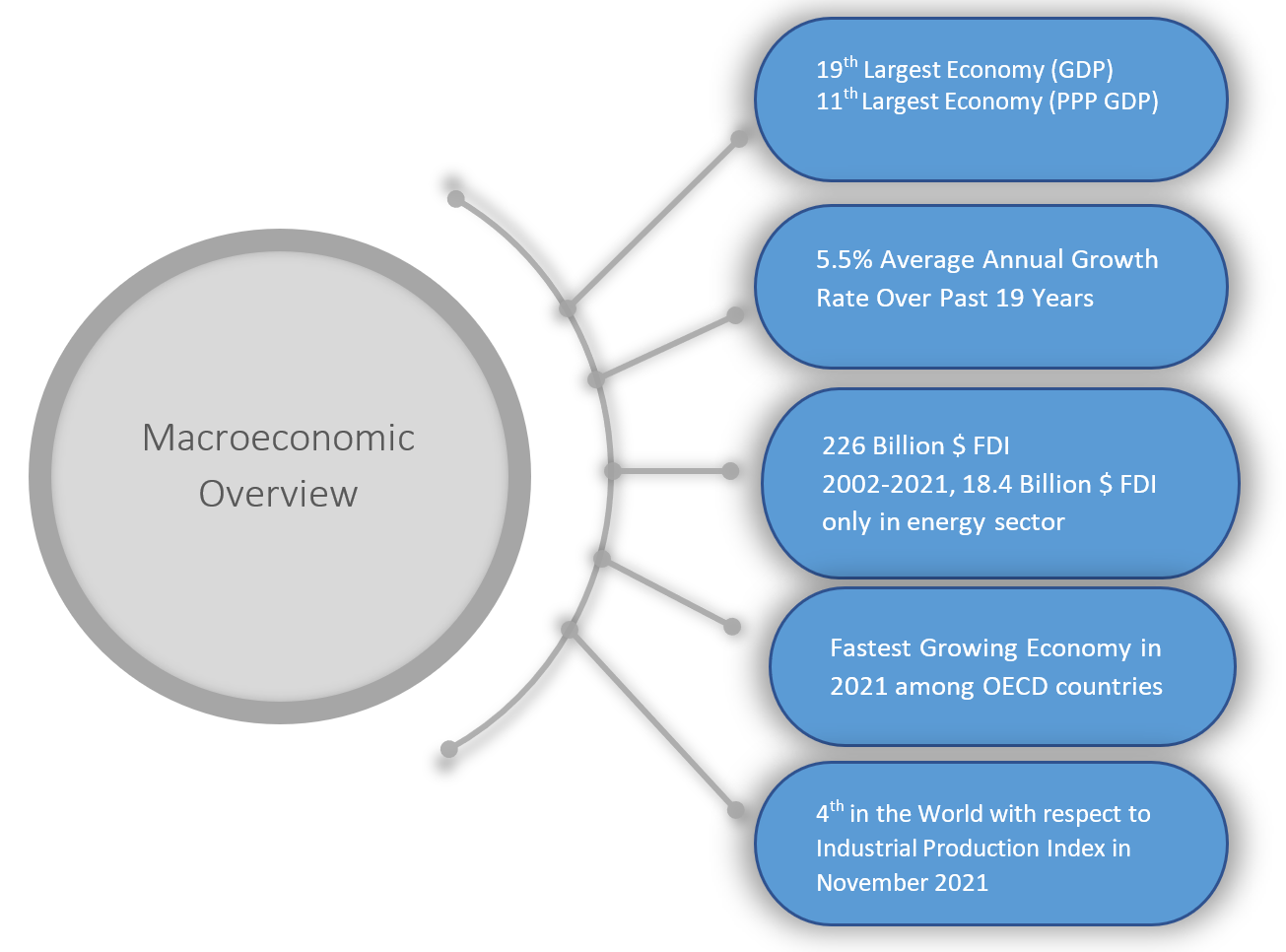 Mining Potential in Turkey
There are 70 different types of minerals produced in Turkey. Turkey is ranked 10th in the World in terms of mineral diversity, holding 0.4% of world metallic mineral reserves, 2.2% industrial raw material reserves, 1% of coal reserves, and 0.8% of geothermal energy potential (as of the end of 2020, Turkey has a share of 11.5% in the world in geothermal energy installed power (Irena, 2021)). Furthermore, the mineral potential of Turkey has not been fully discovered yet, meaning additional reserves are yet to be discovered.
Investment Opportunities in Mining Sector
Turkey, as a part of the Alpine Orogeny belt, has very diverse and dispersed mineral reserves. On-going mineral research studies are enabling Turkey to increase the number of mineral resources that have been discovered and add to the estimates of the country's mineral reserves. With the Airborne Geophysical Survey Project, magnetic, magnetic gradiometry and radiometric measurements are being carried out to scan the areas which are impossible to reach overland. Above mentioned geophysical studies, which can be completed in 250 years by land from the whole country, will be completed in 3 years with this project. Within the scope of the project, over 1.3 million kilometers have been flown so far. With this feature, it is the second largest project in its field that has been recorded worldwide. Within the scope of the project, high-resolution geophysical maps of Turkey are prepared to support the exploration activities with the collected data. Contributing to mining exploration operations in the history of Republic of Turkey, which will be carried out for the first time abroad by foreign companies belonging to the General Directorate of Mineral Research and Exploration, aerial geophysical studies were done in Republic of Uzbekistan and Republic of Sudan.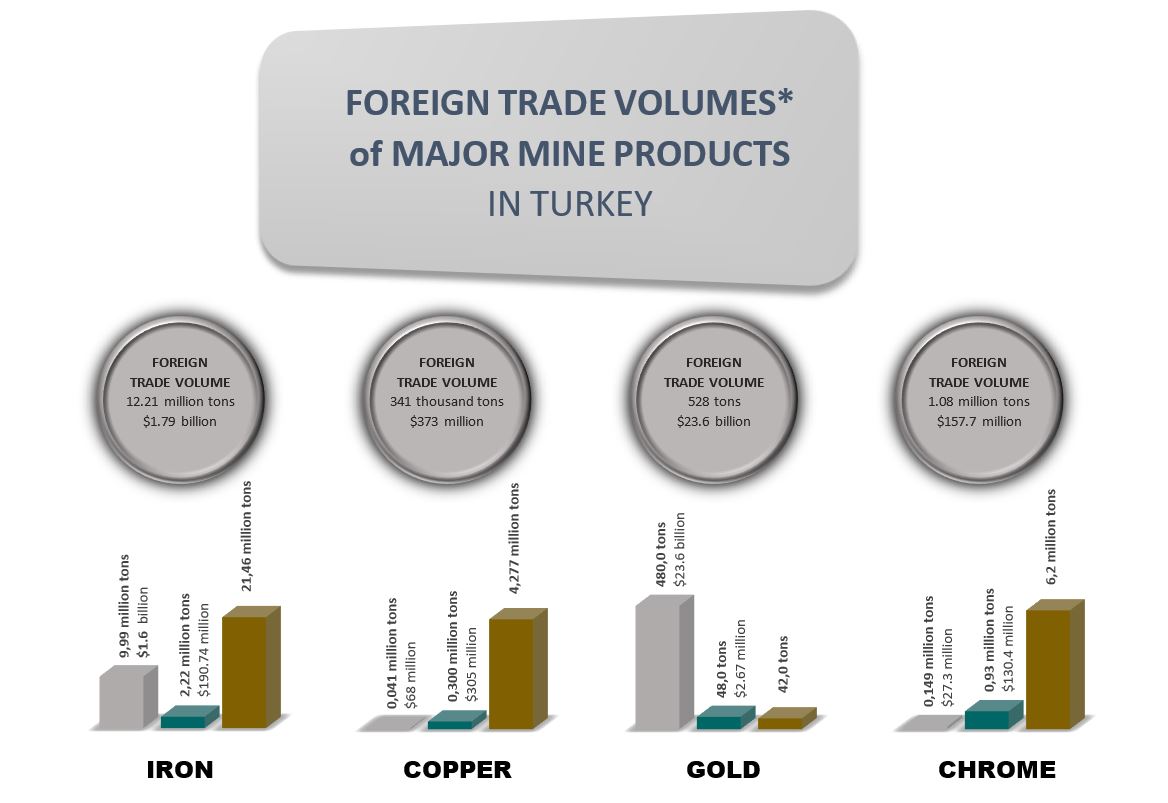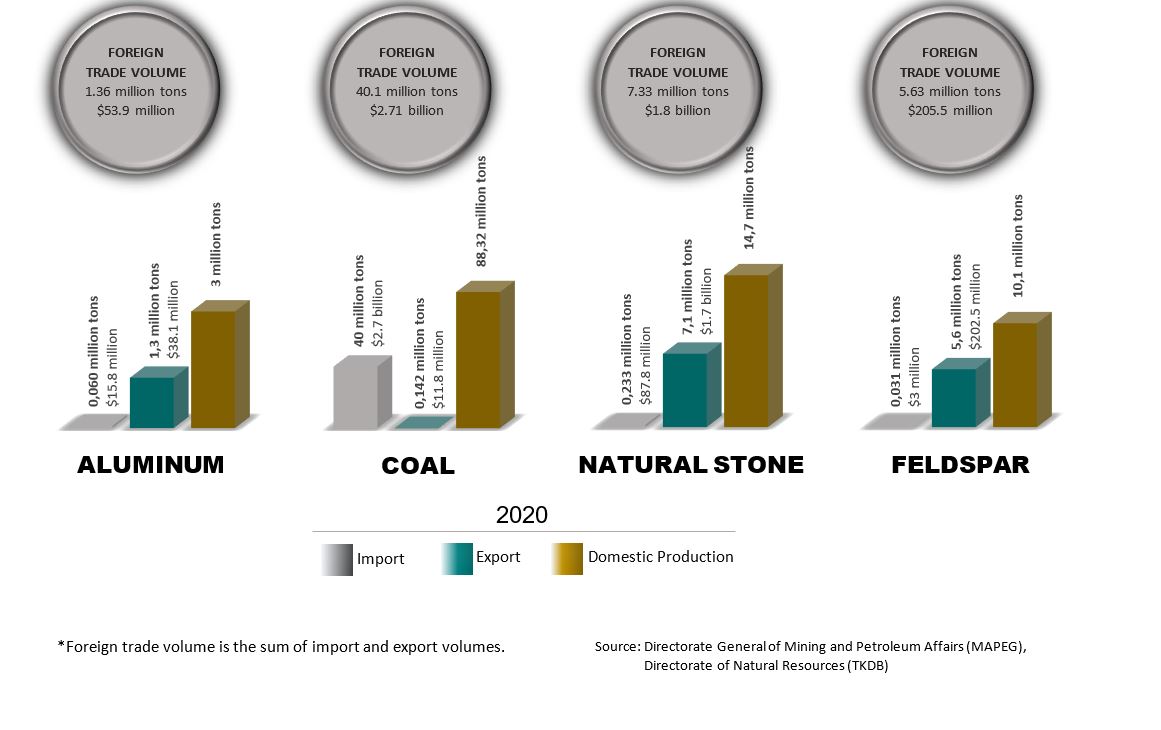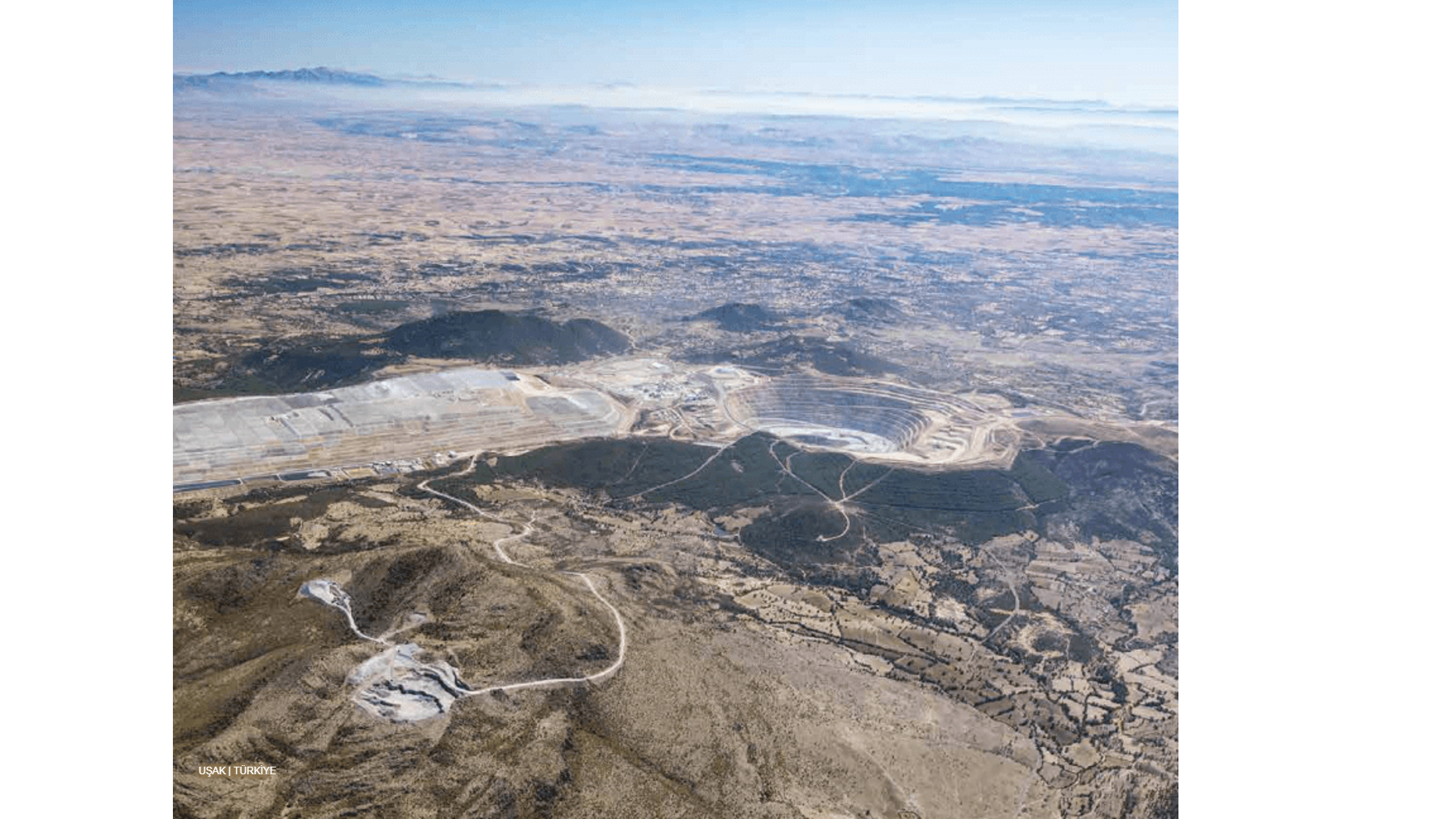 Gold
Turkey is located on the Tethyan Metallogeny belt and in active tectonic zones. The country has 7,000 metric tons of estimated gold reserves. However, due to limited geological explorations up until now, it is estimated that there is still a great amount of gold that has yet to be discovered and extracted.
Chromite
Ore deposits of chromite in Turkey are commonly formed in Alpine type. Ore deposits of chromite concentrated in six different regions are used in the industrial sector and are also exported. Ministry of Energy and Natural Resources (MENR) plans to introduce a tender model for estimated chromite reserves with the condition that the contractor will also build a ferrochrome by-/end product facility. Turkish chrome, with its ratio (2.7 Cr/Fe) and grade (%45-52), is well known on the London Metal Exchange (LME).
Natural Stone
Turkey exports decorative stones all around the world. In recent years, exports of natural Stones to China, Egypt, India, the Arabian Peninsula, and the USA have significantly increased. Turkey has 40% of the world's natural stone reserves with 4 billion m³ of marble reserves, 2.8 billion m³ of travertine, and 1 billion m³ of granite reserves. Turkish natural stone has an important role in world architecture. In 2020, Turkey ranked the 1st in block marble and travertine and 2nd processed marble and travertine exports worldwide.
Incentives
The mining sector in Turkey is supported through two mechanisms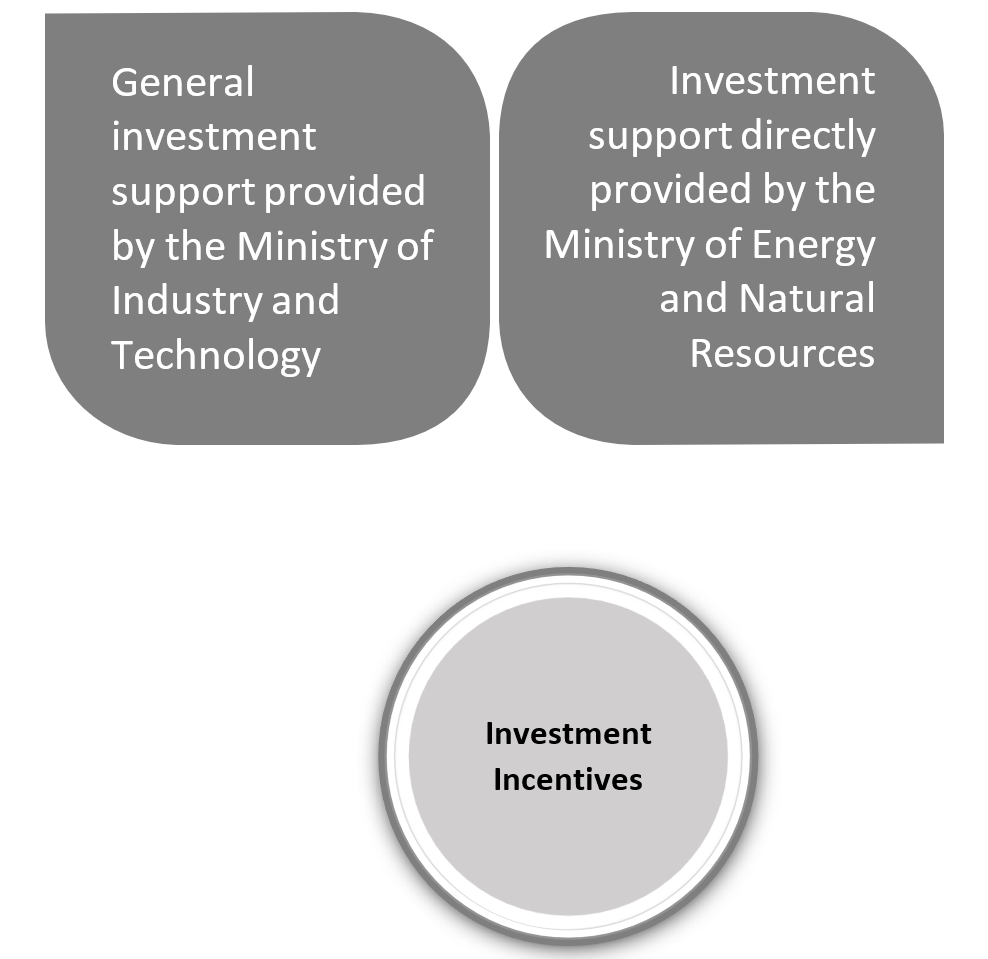 The mining investments in Turkey are promoted in several ways, such as: VAT exemption Discount on taxes 5th extra incentives ¹
1 Turkey is divided into six economical regions in terms of investments and mining investments can be benefit from 5th region incentives irrespective of their locations.
The incentives referred to in the Mining Law provide Discount on royalty fee and rate of property permit assurance about mining license and premium support for workers operating in underground coal mines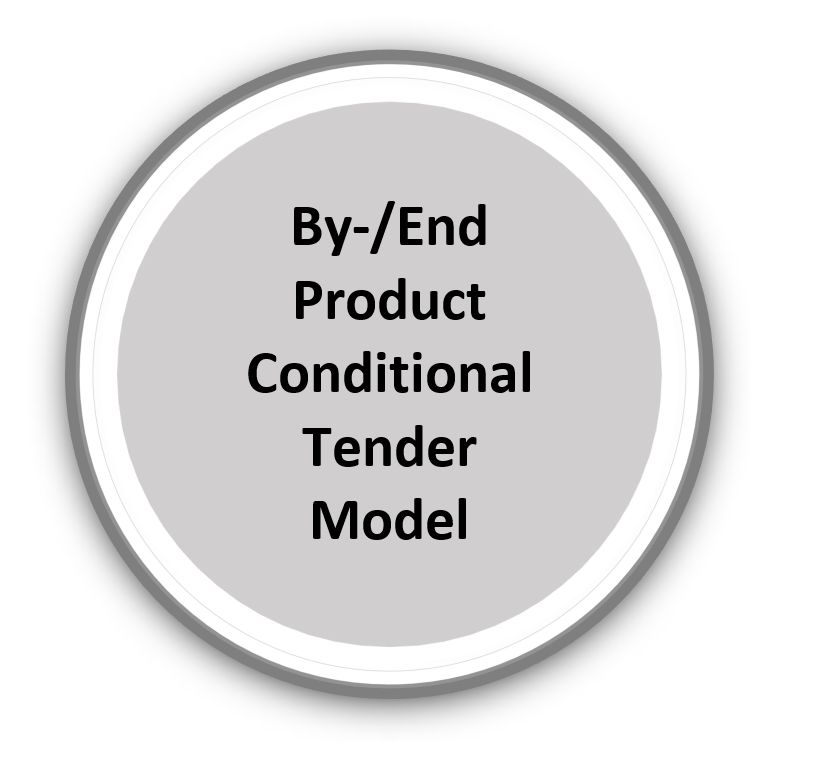 By means of new amendments in the Mining Law, mining license tenders will be made on the condition that by-/end product facilities shall be built. In this tender model, the profit of the investors is maximized while indigenous mineral resources are converted into by-/end products within the country. Tenders will be made
according to each mineral group and the facility properties.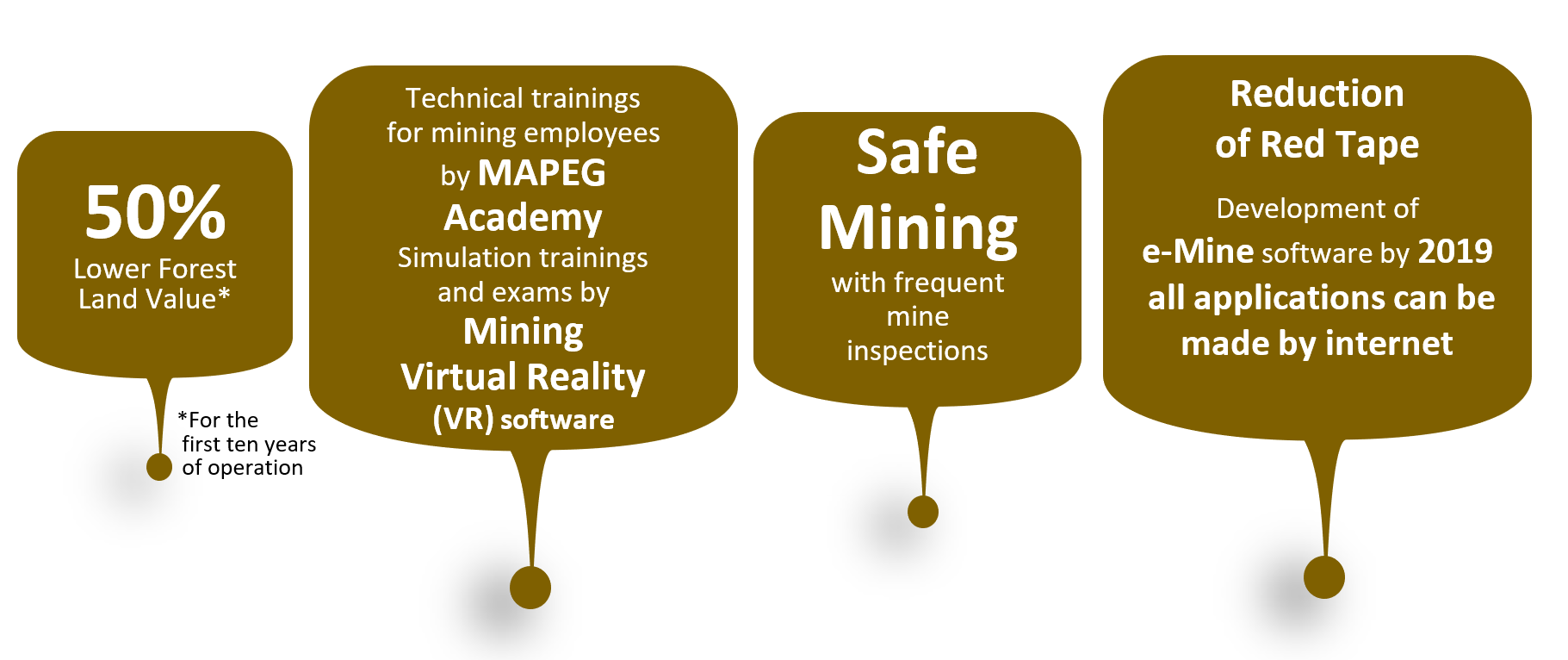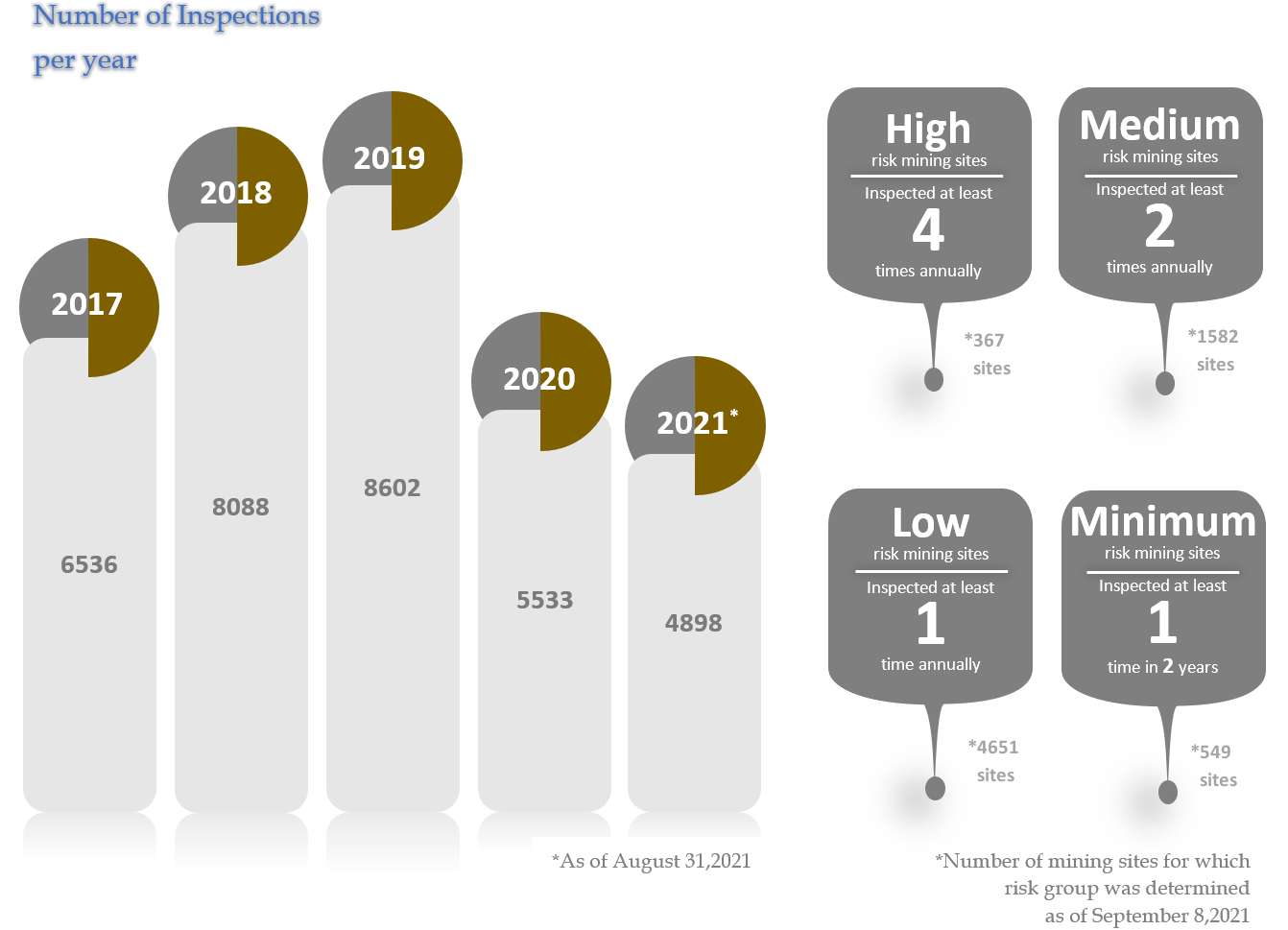 Foreign Investment in Mining Sector
As of August 2021, 171 companies with foreign shareholders hold a total of 809 mining licenses in Turkey. Aggregate, cement, marble, gold, lead-zinc-copper, silver, and chrome are the major minerals and mines that foreign investors are interested in.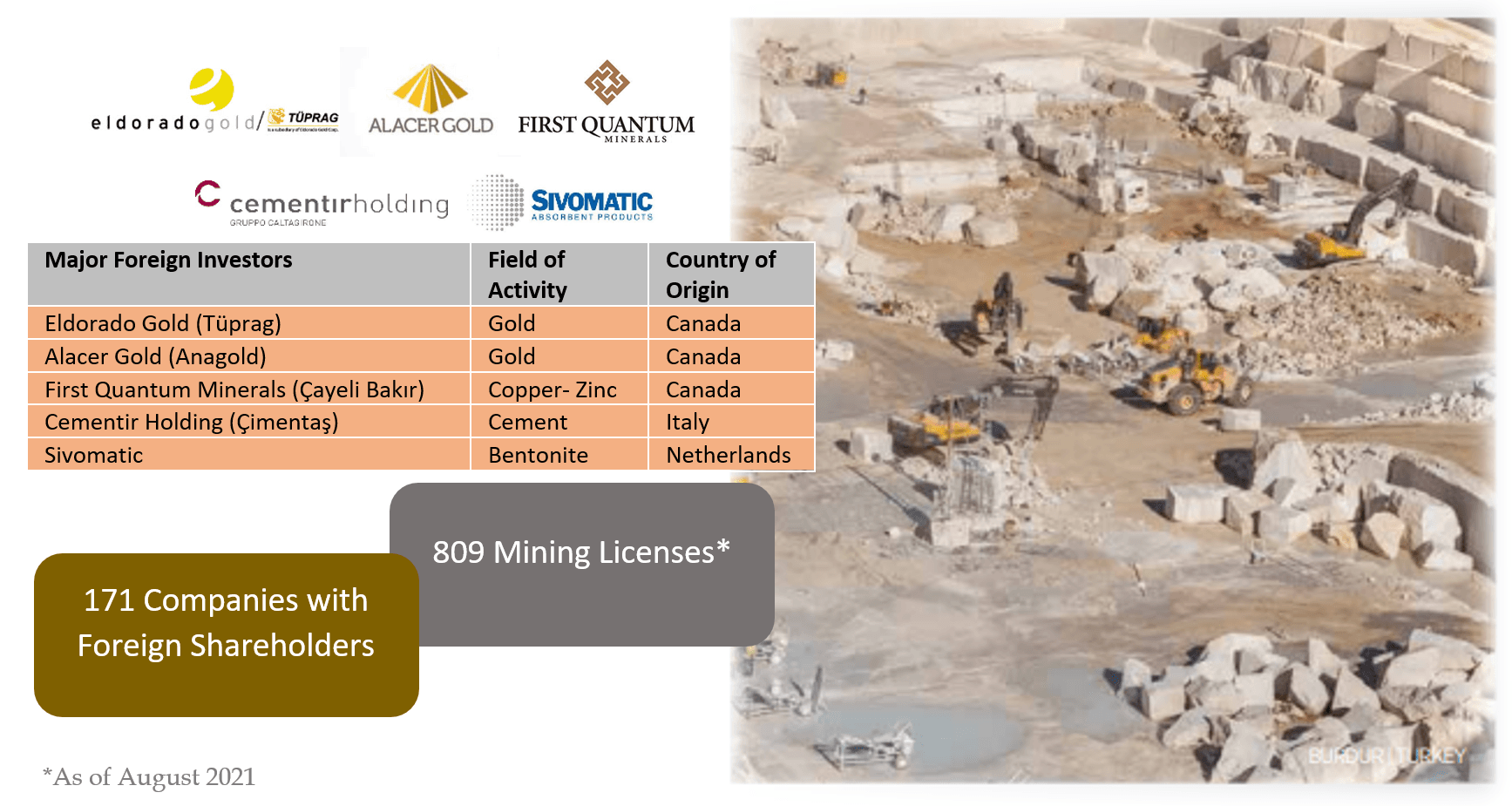 Mining Policy Framework
The framework of mining activities in Turkey has been designated by the Mining Law and the related regulations.
The main principles that these regulations designate are as follows
Safety first
Mining rights are excluded from landrights
Getting environmental and land permits (harmonized with EU legislation)
Carrying out mining activities within licensed boundaries
Royalty fees based on production (between 1% and 8%)
License assurance (very hard to cancel licenses) and duration (up to 50 years and more with the President's approval)
In addition to the above, the Turkey Geoscience Data and Core Data Bank (TUVEK)2 has been established in order to archive, publish, and put into service the geoscience data (drill cores, chip samples, and hand specimens) generated by the public and private sector during the mineral prospecting, exploration, and production stages. The National Resources and Reserves Reporting Committee (UMREK)3 designates the minimum standards and best practice principles for public reporting of mineral exploration results, mineral resources, and mineral reserves with the purpose of informing investors, financial institutions, and the stock market.
2For further information please visit www.tuvek.mta.gov.tr
3For further information please visit www.umrek.com.tr
In order to be involved in mining activities in Turkey, a legal/natural entity should progress through eight main phases
I. Application for a license to General Directorate of Mining and Petroleum Affairs-MAPEG (via e-Mine system)
II. Complete exploration activities within the period of the exploration license and provide an estimation of the mineral reserves (MAPEG)
III. Specify the production method with the operation Project.
IV. Acquire a mine operating license (MAPEG)
V. Acquire environmental permits (related institutions)
VI. Assign a technical supervisor (through MAPEG by the investor)
VII. Acquire a shipment slip
VIII. Proceed with the production stage (MAPEG)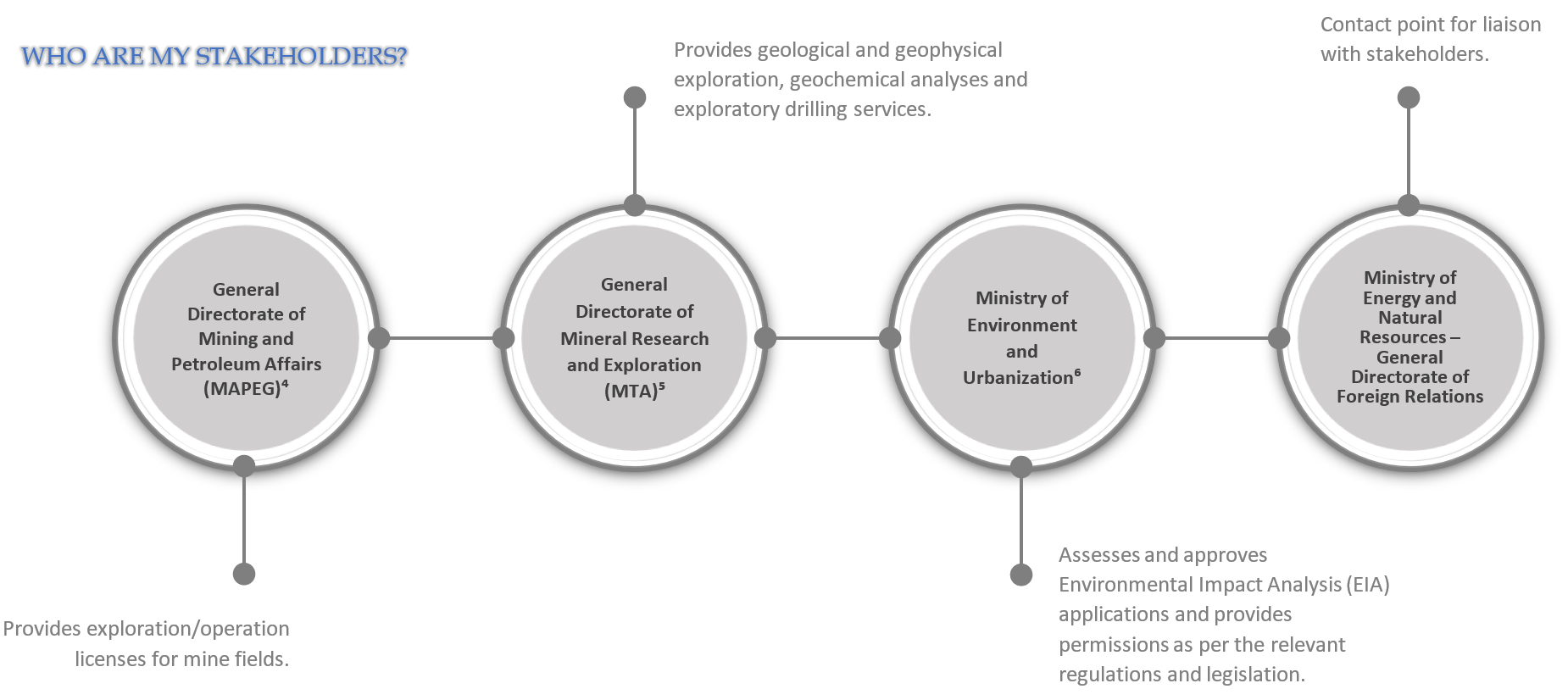 ⁴ For further information please visit www.mapeg.gov.tr
⁵ For further information please visit www.mta.gov.tr
⁶ For further information please visit www.csb.gov.tr
The investor may be required to obtain clearance on certain issues relevant to the functional responsibility areas falling under the competence of the following institutions:

⁷ For further information please visit www.tarimorman.gov.tr
⁸ For further information please visit www.ktb.gov.tr
Where should I apply for a mining license?
You should apply to the General Directorate of Mining and Petroleum Affairs for a mining license.
What are the stages from application for a license to mining?
Direct application for a mining license or purchasing by a tender.
The period for mineral exploration (between one and seven years).
The period for mine operation (minimum 10 years, and upon request, may be extended to 50 years in total without further operation).
What are the fees to be paid to for a mining license?
Mining license holders have to pay two annual fees to the state:
Annual license fee (related with the license group and the license area).
Exploration – USD 250 to USD 3,300
Operation – USD 2,500 to USD 215,000
Royalty fee (varies from 1% to 15% and depends on the dispatch shipment amount of production).
Güncelleme Tarihi :
07.04.2022